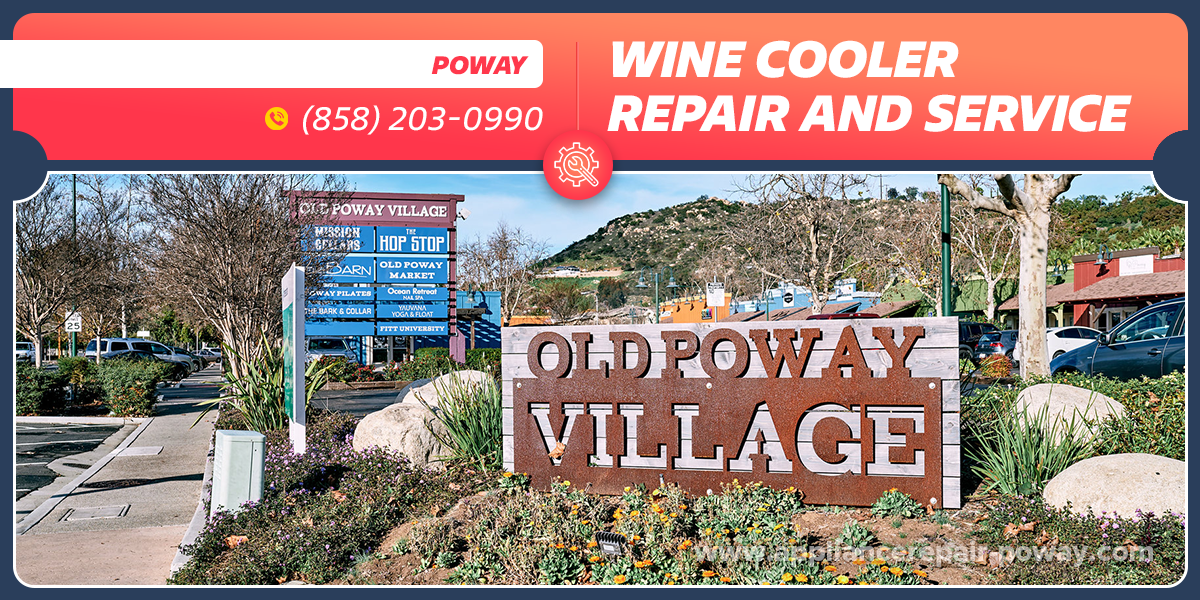 Wine Cooler Repair in Poway
The condition of the drink directly depends on the operation of your wine cooler. This applies to both taste and aroma. Therefore, if you notice a problem, contact the Poway Appliance Service Center immediately. Our experts are guaranteed to quickly and efficiently solve your problem. Wine Cooler Repair in Poway, CA is carried out by extremely experienced experts. 
Our specialists started working in 2001. They know many repair methods that allow us to eliminate 100% of malfunctions. In addition, all our technicians are certified and insured. You can rest assured of the experts' skills as they are documented.
Our company operates 365 days a year. We don't really have any days off. Thus, you can order Poway Wine Cooler Repair on any day convenient for you. Our manager will talk to you first. He will ask you to briefly describe the malfunction that has occurred. If the manager decides that you can solve the problem yourself, he will provide you with instructions. With their help, you will correct the situation with your own hands. Importantly, our clients don't pay for such telephone consultations.
If the situation requires professional assistance, a specialist will send a technician to you. Sometimes Wine Cooler Repair in Poway, CA is ordered by the owner of complex equipment. In this case, we send several specialists to this client. Most often it is 2-3 technicians.
After the client has ordered Poway Wine Cooler Repair, our specialist comes to this person and diagnoses the equipment. After the completion of this work, the experts will tell you the cost of the repair. If you decide to postpone the repair until later, you will only need to pay a service fee. We will keep this money for a month as a deposit. This means that if you change your mind within a month, the money will be used to pay for the repairs.
For more than 20 years, we have concluded that our technicians always do their job professionally. Do you want to make sure of this? Read reviews from customers who ordered Wine Cooler Repair in Poway, CA. You can find them on Google and Yelp.
Our clients receive guaranteed quality repairs
You want to be sure that your wine cooler will work reliably in the future, right? We have good news for you. Customers who order Poway Refrigerator Repair and Service get two quality guarantees. 
Firstly, it is a warranty on the repair itself (90 days). In the event of a repeat failure, warranty repairs will be carried out free of charge. Secondly, we're talking about a 12-month parts warranty. If our specialist replaced any spare part, after completion of the work, he would provide you with a document.
We take a very responsible approach to our material and technical base. Our experts use tools for diagnostics and repair, which have proven themselves well. They have a positive effect on the quality of the repair and the timing of its implementation. We also carry out Wine Cooler Repair in Poway, CA using only original parts. 
When it comes to Wine Cooler Repair in Poway Near You, we prioritize quality and customer satisfaction. We continuously monitor the market to ensure that we source only products with quality certifications. This ensures that when we replace components in wine coolers, they work flawlessly, providing optimal performance and reliability. 
As mentioned earlier, we encourage you to read customer reviews to gain further confidence in our services. These reviews serve as testimonials to our commitment to excellence and our track record of delivering exceptional results. Rest assured that your wine cooler is in capable hands, and we are dedicated to providing you with a seamless repair experience.
How to order repairs from our company
You can order Poway Wine Cooler Repair and Service by leaving a request by phone. We are ready to talk to you on any convenient day. You can easily find our company's phone number on the website. An alternative way to order repairs is the feedback form. Leave your phone number here and the Poway Appliance Service Center specialist will call you back within 1-3 minutes. After a short conversation, the manager will decide whether you need professional help or not. If the answer is yes, a specialist will send a technician to your address.
Our specialist carries out repairs, works carefully in the process, so as not to leave behind any traces of equipment repairs, and not to spoil the appearance. After the repair is completed, our company will back it up with a 90-day labor warranty. If you encounter the same problem during the warranty period, rest assured we will return to get an appliance back up to perfectly working condition.
$30 OFF ON FIRST TIME SERVICING
Frequently asked questions
What if I have a complex repair of equipment?
Our specialist will come to your home, conduct diagnostics and offer solutions to the problem. And only after your consent, the repair will begin.
Do you have customer support?
Our managers will always listen carefully to you and give you initial recommendations on the malfunction of your equipment to determine the cost of repair. Call:
(858) 203-0990
Is the expert's visit free of charge?
If you order a call to the master through our website, you are guaranteed to get a free diagnosis of your device, and detection of breakage.