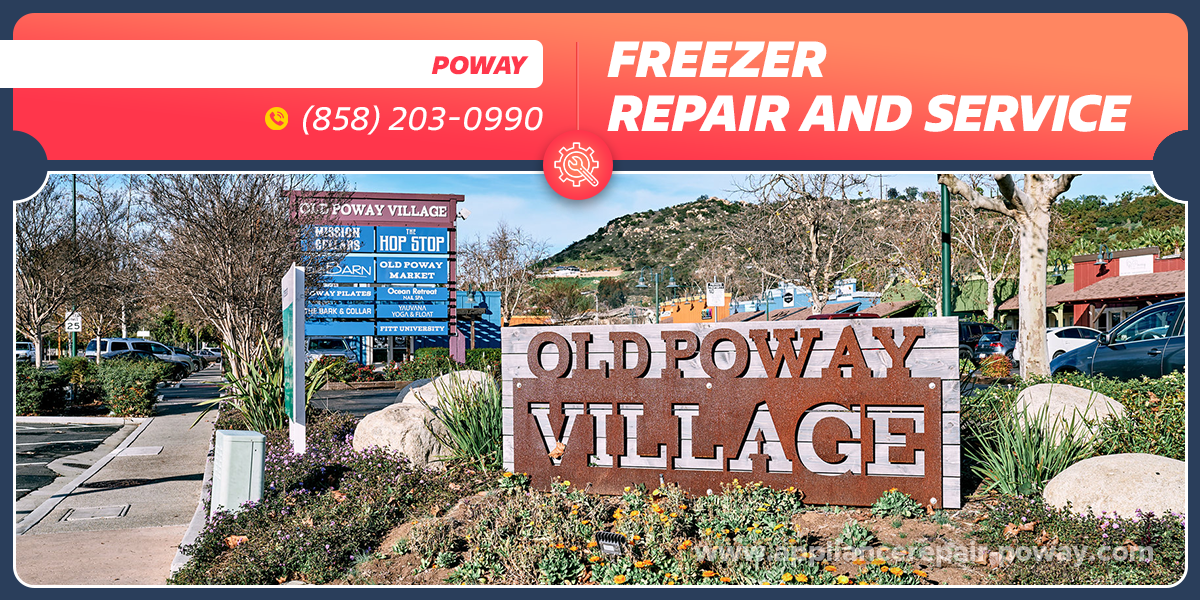 If your freezer is broken, don't let your food go bad. Contact professionals right away. We recommend contacting the Poway Appliance Service Center for assistance. Our experts work with freezers of any type. This list includes commercial and residential models, old appliances and new ones. Specialists effectively repair equipment with any technical characteristics. Order Freezer Repair in Poway, CA and you'll be back to full use of your kitchen equipment in no time.
The advantage of our experts is that they work with breakdowns of any type. Order Poway Freezer Repair if you notice any malfunction. Our numerous customers have already seen that there are no unsolvable problems for us. 
If there is a very difficult situation and the cost of repair exceeds the cost of buying a new freezer, we will let you know. In this case, the logical decision would be to buy a new model. If you wish, you can ask our specialist to choose a replacement for you on the market. Our technician can also replace your old freezer with a new one.
Customers who order Freezer Repair in Poway, CA receive guaranteed quality repairs. We provide them with a 90-day warranty. Our specialists work extremely professionally, but force majeure can sometimes occur. If you encounter such a situation, we will provide you with free assistance. 
In addition, customers receive a 12-month warranty on new parts. It is important that we buy only original options. Such spare parts have certificates and meet all possible quality standards.
Interested in ordering a Poway Freezer Repair but want to ask us a few questions first? We will gladly answer them. You can contact us any day, as our company operates all year round. The manager will conduct a personal consultation for you. You will receive all the necessary information.
It is also a good idea to read reviews from customers who have previously used Freezer Repair in Poway, CA. You can find such comments on Google and Yelp.
About the breakdowns that occur most often
Some of the malfunctions our specialists encounter most often. Usually, customers who order Poway Freezer Repair and Service come to us with such problems. We invite you to take a look at this list.
You select the temperature, but the freezer cannot keep it at the desired level.

The temperature changes by itself from time to time.

There is a thick layer of ice on the freezer walls.

These walls have become warm.

The water is leaking from the freezer.

The freezer door doesn't close properly. Cold air is released outside and the temperature inside decreases.
Of course, these are not all the malfunctions that our specialists work with. As a reminder, you can order Freezer Repair in Poway, CA in any situation.
Whatever happens, repairs will be done quickly. Our company brings many benefits to customers who need urgent repairs. In 90% of cases, repairs are completed on the same day. Our large warehouse helps us to do our job in the shortest possible time. 
We buy a lot of freezer parts in advance and store them here. Thanks to this, we don't waste the time of each client. If it becomes necessary to carry out a replacement, the specialist simply goes to the warehouse and takes the right thing.
How to use the services of our company
You can order Poway Freezer Repair and Service by leaving a request by phone. Find the phone number of our company on the site. The specialist will ask you to briefly describe the breakdown that has occurred. If necessary, the manager will send a technician or several technicians to your address. You can also order this service by filling out the contact form on the site. The Poway Appliance Service Center manager will call you. You won't have to wait for a call longer than 3 minutes.
Our specialist carries out repairs, works carefully in the process, so as not to leave behind any traces of equipment repairs, and not to spoil the appearance. After the repair is completed, our company will back it up with a 90-day labor warranty. If you encounter the same problem during the warranty period, rest assured we will return to get an appliance back up to perfectly working condition.
$30 OFF ON FIRST TIME SERVICING
Frequently asked questions
What if I have a complex repair of equipment?
Our specialist will come to your home, conduct diagnostics and offer solutions to the problem. And only after your consent, the repair will begin.
Do you have customer support?
Our managers will always listen carefully to you and give you initial recommendations on the malfunction of your equipment to determine the cost of repair. Call:
(858) 203-0990
Is the expert's visit free of charge?
If you order a call to the master through our website, you are guaranteed to get a free diagnosis of your device, and detection of breakage.