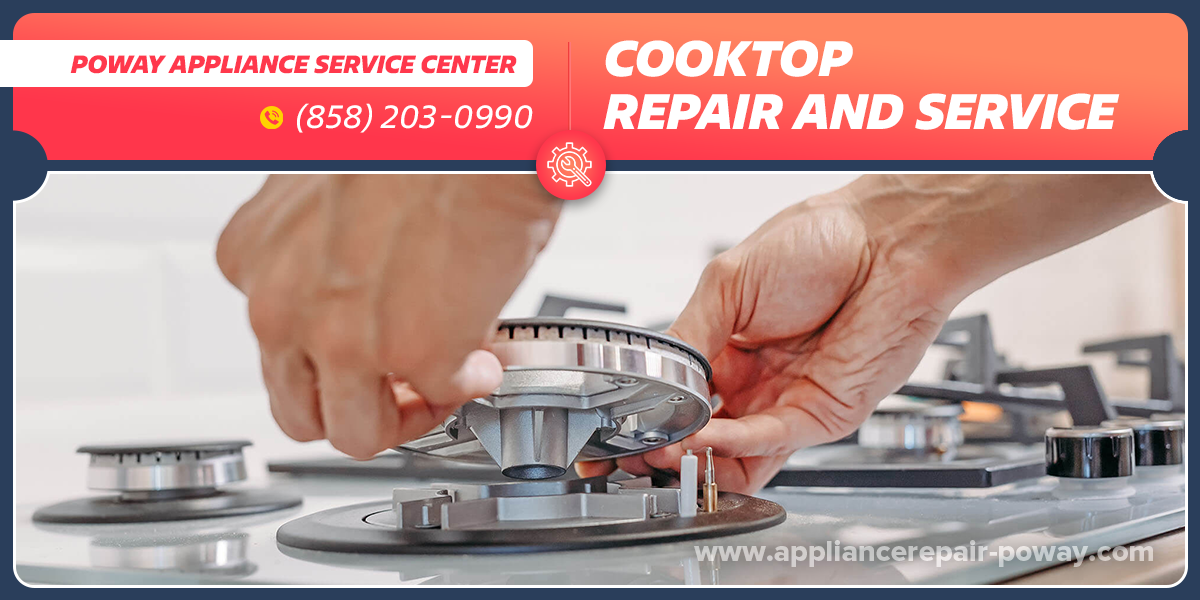 Cooktop Repair and Service
Increasingly, instead of a stove in the kitchen, many people choose to install a cooktop and a separate oven. Built-in appliances fit better into the interior and have a more modern look. There are several types of cooktops: electric, induction, and gas. Each type has its own damage but there are some common points. If you need professional Cooktop Repair in San Diego County, contact Poway Appliance Service Center.
Cooktop Repair in San Diego County
It's hard to imagine a modern apartment with a bulky and free-standing kitchen stove. The cooktop is the antipode to it and a symbol of progress in everyday life. This device harmoniously fits into any interior, it is easy to operate, and reliable.
However, there is no perfection in everything. In the event of a cooktop breakdown, it is not possible even for a home master to dismantle and repair it on his own. Entrust Cooktop Repairs only to professionals.
Our technicians have many years of experience working with modern built-in household appliances. And not to leave you in a cold kitchen for a long time, we repair cooktops at home. In 15 minutes after the call, if you need urgent repairs, our specialist will leave at the specified address. The technician will diagnose the breakdown and start repairs.
The Most Common Cooktop Breakdowns
The most common malfunctions that need a professional approach for Cooktop Repair and Service are:
Filling the panel sensors with liquids.

The burner does not turn off and steams at full.

The burner does not turn on or the burner does not heat well.

After 10-20 minutes of operation, the cooktop switches off

One or two burner extension zones stop working.

The cooking zones of the burners have lost power and heat poorly.

When you press the sensor, the panel does not turn on.

Crackling relay module.

The surface of the glass or ceramic cooktop is broken.

The boundaries that determine the location of the dishes during cooking have been erased.
Cooktop malfunctions occur both from external influences and internal factors. The internal factor may be due to the wear of the part. The technician will replace it during the Cooktop Repair. For example, a burner burned out, a component came out on the board, etc. External influences include water ingress on control boards, overvoltage, and heavy objects falling onto the glass-ceramic surface. For induction cooktops, power board failure is a common problem. With any of the above breakdowns, our technician will cope on the day of the call on the spot.
How to Call a Technician for Repair
Our home appliance repair service will perform urgent Cooktop Repairs and Services in a short time. Repair of the touch panel, replacement of the burner, restoration of the power unit, or the power module will not take much time. The specialists are well acquainted with the technical part and have extensive experience in repairing and diagnosing cooktop breakdowns.
To call a technician for Cooktop Repair you need to do a few simple steps.
Leave a request or call us at the numbers listed on the website.

Tell the specialist what kind of cooktop you have: induction, glass-ceramic, or combined.

Name the cooktop model.

Describe the problem.

Arrange a time that is convenient for you.
Experienced specialists will evaluate the scope of work and make a preliminary diagnosis of a breakdown. Original spare parts for cooktops are always available in our stocks. Therefore, in most cases, we can provide Cooktop Repairs on the spot on the same day.
Poway Appliance Service Center works without breaks for lunch, rest, or holidays. 7 days a week, our workshops are open to customers from early morning until late evening. Just call us and we will quickly, professionally, and with a guarantee provide Cooktop Repair and Service.
Our specialist carries out repairs, works carefully in the process, so as not to leave behind any traces of equipment repairs, and not to spoil the appearance. After the repair is completed, our company will back it up with a 90-day labor warranty. If you encounter the same problem during the warranty period, rest assured we will return to get an appliance back up to perfectly working condition.
$30 OFF ON FIRST TIME SERVICING
Frequently asked questions
What if I have a complex repair of equipment?
Our specialist will come to your home, conduct diagnostics and offer solutions to the problem. And only after your consent, the repair will begin.
Do you have customer support?
Our managers will always listen carefully to you and give you initial recommendations on the malfunction of your equipment to determine the cost of repair. Call:
(858) 203-0990
Is the expert's visit free of charge?
If you order a call to the master through our website, you are guaranteed to get a free diagnosis of your device, and detection of breakage.