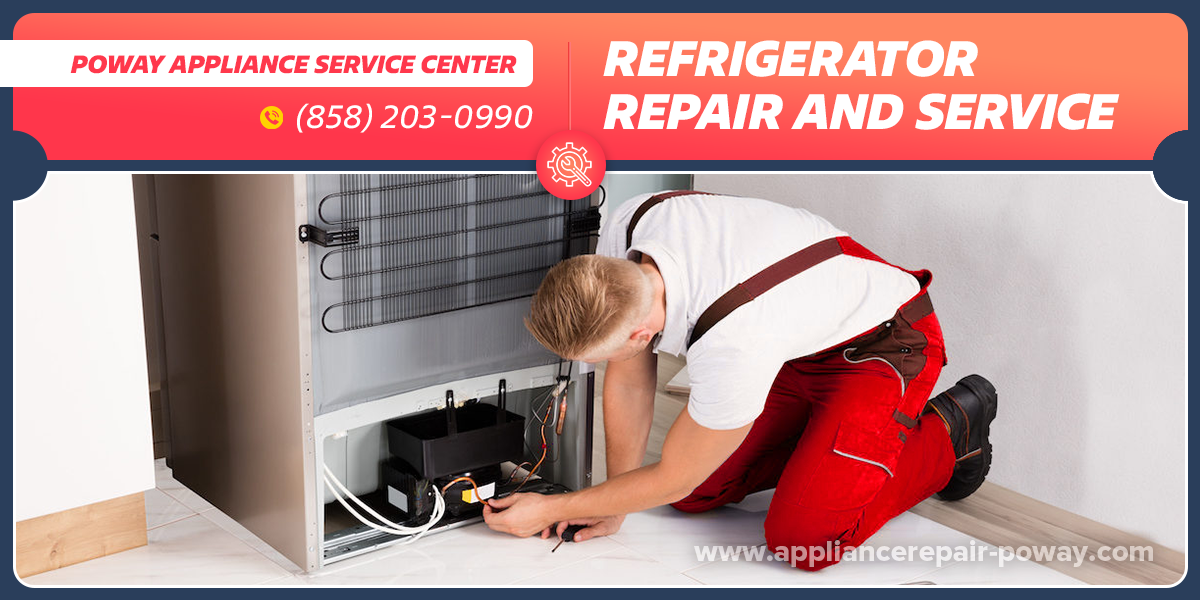 Refrigerator Repair and Service
Home appliances make life much easier for every busy person. But unfortunately, it sometimes fails. And refrigerators are no exception. At one not-perfect moment, the appliance suddenly breaks down. Well, if it has already served its life, then you can buy a new one. If the service life is far from completion, contact a certified technician with experience in repairing units. If you are looking for real professionals, call Poway Appliance Service Center. We will provide high-quality Refrigerator Repair in San Diego County at the best price.
The Most Common Refrigerator Breakdowns
When it comes to refrigerator malfunctions, they can be categorized into minor and critical issues. The owner of the appliance can take charge and resolve minor problems that don't demand complex repairs. By diligently performing simple maintenance measures, you can prevent potential breakdowns and ensure your refrigerator operates smoothly for years to come. 
These include:
No backlight;

Bad smell;

Ringing while operation;
Factory light bulbs burn out quickly. In such a case, Refrigerator Repair does not cause any particular difficulties. For some time, an unpleasant smell may come from new refrigerators. This is due to the use of inexpensive polymers in the manufacture of budget refrigerators.
Mustiness inside the chambers is the result of storing foods with a strong odor or irregular defrosting. The owner should handle the equipment properly. To prevent this problem, use gel sorbents. They are odorless but at the same time, they effectively absorb third-party odors.
The ringing during operation is caused by close contact of the refrigerator with third-party objects. As a result of vibration, the appliance could move, causing friction against nearby furniture or walls. Another option is the dense loading of cameras with containers. Sometimes the noise occurs because of the clinking of dishes inside the refrigerator.
Critical malfunctions are failures that disable equipment and require professional Refrigerator Repair and Service. The most common are:
Noisy operation of the device.

Low cooling capacity.

The appearance of electrical discharges on the body of the refrigerator.

Continuous operation of the compressor's motor.

The formation of a dense snow crust.

Accumulation of moisture inside the chambers.
Identification of the problem is impossible without a deep and detailed diagnosis. The equipment necessary for this is available only in the arsenal of highly qualified craftsmen. So, you can't do without professional help. If you noticed the above malfunctions, call our technician for Refrigerator Repairs.
Need Refrigerator Repair Poway? Look no further! Our skilled technicians are experts in fixing all refrigerator issues.
From a wide range of cooling problems to mysterious noises, you can count on us to address all your refrigerator concerns. With our prompt service and dependable solutions, we'll swiftly restore your fridge to its optimal performance. Trust in our expertise and experience for top-quality repairs that will have your refrigerator running smoothly in no time. Say goodbye to the hassle and inconvenience – we've got you covered!
Why Should You Choose Our Service Center?
We offer our clients the most favorable terms for Refrigerator Repairs and Services. With years of experience, we specialize in repairing refrigerators quickly and efficiently.
Say goodbye to spoiled food and high energy bills. Contact us today for top-notch Refrigerator Repair Services.
Why is it better to call us for a refrigerator repair? As an answer to this question, we are ready to give several effective arguments at once:
We leave for

Refrigerator Repairs

on the day of the call.

Our technicians are regularly trained and improve their skills. This allows them to repair almost any refrigerator breakdowns. Our skilled technicians are just a call away, ready to provide prompt and reliable

Commercial Refrigerator Repair Services

.

We understand the urgency and importance of getting your equipment back up and running. Trust us for efficient repairs that keep your business running smoothly. Contact us now!

We have our own warehouse where we maintain all necessary factory components and spare parts. It significantly reduces repair time and makes it more favorable.

We use original spare parts and components for

Refrigerator Repair.

The experience of our masters and the constant availability of components allow us to undertake repairs of any complexity.

We provide a long-term guarantee for all types of work performed.
Is your refrigerator acting up? Don't panic!
We've got your back. Our expert technicians specialize in Refrigerator Repair Near You. From strange noises to cooling issues, we'll diagnose and fix it in no time.
Say goodbye to spoiled food and hello to a properly functioning fridge. Contact us today!
For urgent Refrigerator Repair and Service, an appliance technician will show up at the address you provide within 15 minutes. The specialist will decide whether to fix the refrigerator at the site or take it to Poway Appliance Service Center. We will do everything for you to return comfort to your house!
Our specialist carries out repairs, works carefully in the process, so as not to leave behind any traces of equipment repairs, and not to spoil the appearance. After the repair is completed, our company will back it up with a 90-day labor warranty. If you encounter the same problem during the warranty period, rest assured we will return to get an appliance back up to perfectly working condition.
$30 OFF ON FIRST TIME SERVICING
Frequently asked questions
What if I have a complex repair of equipment?
Our specialist will come to your home, conduct diagnostics and offer solutions to the problem. And only after your consent, the repair will begin.
Do you have customer support?
Our managers will always listen carefully to you and give you initial recommendations on the malfunction of your equipment to determine the cost of repair. Call:
(858) 203-0990
Is the expert's visit free of charge?
If you order a call to the master through our website, you are guaranteed to get a free diagnosis of your device, and detection of breakage.