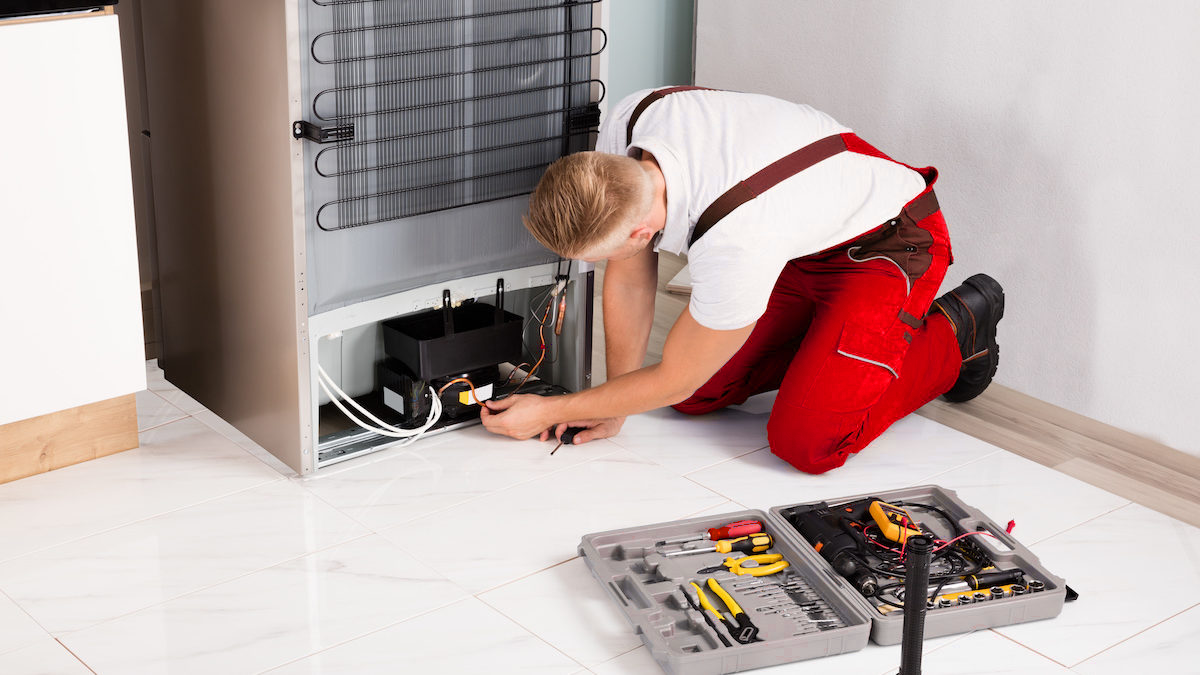 Refrigerator Repair Service
Among the many inventions that have made our daily lives easier and more comfortable is the refrigerator. Really! Imagine all the time and money you save by purchasing food in bulk and storing it at home. You do not need to go to the supermarket, and food in bulk comes at lower prices. However, without your refrigerator, you would not be able to store highly perishable wares like meat, dairy food, fish, and poultry for a long time. In the event of a refrigerator breakdown, all these perishable products would spoil rather quickly causing an economical loss and inconveniences like the need for frequent visits (even several times a day!) to the supermarket.  Moreover, amenities like cold drinks and ice cream would not be available. And all because of a refrigerator breakdown! Poway Appliance Repair Service Center provides high-quality services in such locations as Mira Mesa, 4S Ranch, Ramona, Rancho Bernardo, Scripps Ranch, Rancho Santa Fe, Rancho Penasquitos, and Poway refrigerator repair service.
Therefore, whenever you notice a malfunction in your refrigerator you should immediately contact our Poway Appliance Repair Service Center in San Diego County for appliance repair help. Common problems are: the refrigerator is not cooling, it is cycling too often, it is leaking water, there is ice buildup in the freezer, etc. You may find on the Internet some websites that claim that these issues can be fixed by yourself. We disagree, and discourage any DIY refrigerator repair for many reasons. First and foremost, your safety. Attempting to repair a refrigerator without the proper technical training is hazardous. You can get an electric shock (which can have serious consequences!), cause a short circuit that may ignite a fire at home, or worse. Additionally, you can further damage your refrigerator. Professional help is necessary for all appliance repairs, and this is why we encourage getting in touch with our appliance repair company.
We are your best option for all appliance repair services. 20 years of experience fixing appliances provides the certainty that we are doing our job right. Our technical staff is well-trained and knowledgeable and fixes even the most difficult issues in your refrigerator. We repair all the brands, even those that are not common in our country. When you entrust us with your appliance for repair, you will not have to wait long to get your refrigerator back at home, fully operational! We have a large stock of spare parts, which minimizes the waiting time. What's more, 95% of the issues are fixed on the same day! We use original spare parts in all our repairs or the analog recommended by the appliance manufacturer. Therefore, you can be sure your refrigerator will continue working with the same specifications.  All our repairs are fully guaranteed. Many satisfied clients can attest that we are simply the best appliance repair company in Poway.
For urgent requests, an appliance technician will show up at the address you provide within 15 minutes. The appliance specialist will decide whether to fix the problem at the site or take your refrigerator to our  Poway Appliance Repair Service Center. We will do everything for you to return comfort to your house!
Our specialist carries out repairs, works carefully in the process, so as not to leave behind any traces of equipment repairs, and not to spoil the appearance. After the repair is completed, our company will back it up with a 90-day labor warranty. If you encounter the same problem during the warranty period, rest assured we will return to get an appliance back up to perfectly working condition.
$30 OFF ON FIRST TIME SERVICING
Frequently asked questions
What if I have a complex repair of equipment?
Our specialist will come to your home, conduct diagnostics and offer solutions to the problem. And only after your consent, the repair will begin.
Do you have customer support?
Our managers will always listen carefully to you and give you initial recommendations on the malfunction of your equipment to determine the cost of repair. Call:
(858) 203-0990
Is the expert's visit free of charge?
If you order a call to the master through our website, you are guaranteed to get a free diagnosis of your device, and detection of breakage.