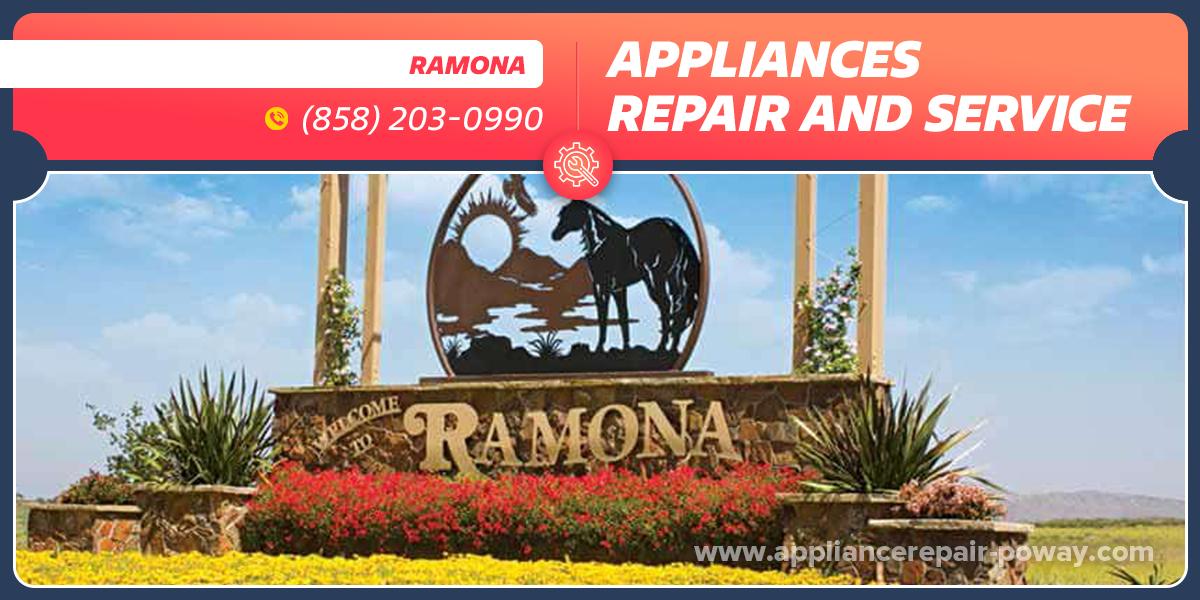 No appliance will last forever no matter what type or brand it is. Any household item breaks if you don't provide it with a timely and high-quality appliance repair and maintenance service. And for that, you need the best Appliance Repair in Ramona, CA. Poway Appliance Service Center is a local reliable company that can provide repair services anytime you need them.
Large and Small Household Appliance Repairs
Large household appliances include refrigerators, washing machines, dryers, electric and gas stoves, dishwashers, etc. Small appliances usually include microwaves, coffee machines, vacuum cleaners, and so on.
Such household devices cost a lot. So, we advise trying professional repairs of household appliances in almost all cases. Many craftsmen believe that equipment purchased several years ago is sometimes of better quality than a number of modern devices. Therefore, try to listen to the opinion of a specialist who provides Appliance Repair in Ramona, CA.
When deciding whether to repair or buy new appliances, consider factors such as:
cost of household appliances;

the nature of the breakdown;

cost of

Ramona Appliance Repair and Service

.
Large household appliances break down for many reasons. Most often, the owners of the devices themselves are the culprits of the problems. Non-compliance with the operation rules and lack of maintenance for a long-time lead to problems. In particular, in refrigerators malfunctions can occur because of a few reasons:
Not cleaning the freezer very carefully.

Leaving the door open for a long time.

Also, problems often arise in the event of serious power surges in the network.
The specialist can correctly determine the cause of household appliance malfunction only after professional diagnostics. You should never try to do Ramona Appliance Repair and Service on your own. Trust large household appliance repairs only to highly professional specialists.
Our technicians always start Appliance Repair in Ramona, CA from diagnostics using professional equipment. This allows us to accurately determine the breakdown, as well as its possible causes. The master will suggest the best way to troubleshoot. The specialist will start work only after agreeing on the details with the client.
Fast and Reliable Household Appliance Repair
Call Poway Appliance Service Center, and our specialists will be there, at your place, within just a few hours. The technician also can come at any convenient time at your request. We can fix more than 95% of all cases without any need to deliver your item to our service center. In our all-home Ramona Appliance Repair service center, we provide all kinds of repairs.
If you are having an issue that appears suddenly, no matter if it is a weekday, weekend, or holiday. Our team is there for you. We are always ready to study your case in detail and give advice about the best solution to fix the issue. We provide Appliance Repair in Ramona, CA without any discomfort for you or breakage of your plans.  
We work with any item, brand, and model. Our experienced technicians know all about household items. Over 100 worldwide brands that we service are a guarantee that we will carry out the fault diagnosis of your appliance fast and professionally.  And of course, we will suggest the best repair solution.
Our masters go to the place to repair household appliances with professional equipment and a full set of necessary tools. We always have spare parts for the most popular brands and models of household appliances in our warehouses. You can be sure that our specialists will repair the breakdown of any complexity. That's why Poway Appliance Service Center is the best Ramona Appliance Repair and Service provider. Rancho Bernardo Appliance Repair
Our specialist carries out repairs, works carefully in the process, so as not to leave behind any traces of equipment repairs, and not to spoil the appearance. After the repair is completed, our company will back it up with a 90-day labor warranty. If you encounter the same problem during the warranty period, rest assured we will return to get an appliance back up to perfectly working condition.
$30 OFF ON FIRST TIME SERVICING
Frequently asked questions
What if I have a complex repair of equipment?
Our specialist will come to your home, conduct diagnostics and offer solutions to the problem. And only after your consent, the repair will begin.
Do you have customer support?
Our managers will always listen carefully to you and give you initial recommendations on the malfunction of your equipment to determine the cost of repair. Call:
(858) 203-0990
Is the expert's visit free of charge?
If you order a call to the master through our website, you are guaranteed to get a free diagnosis of your device, and detection of breakage.