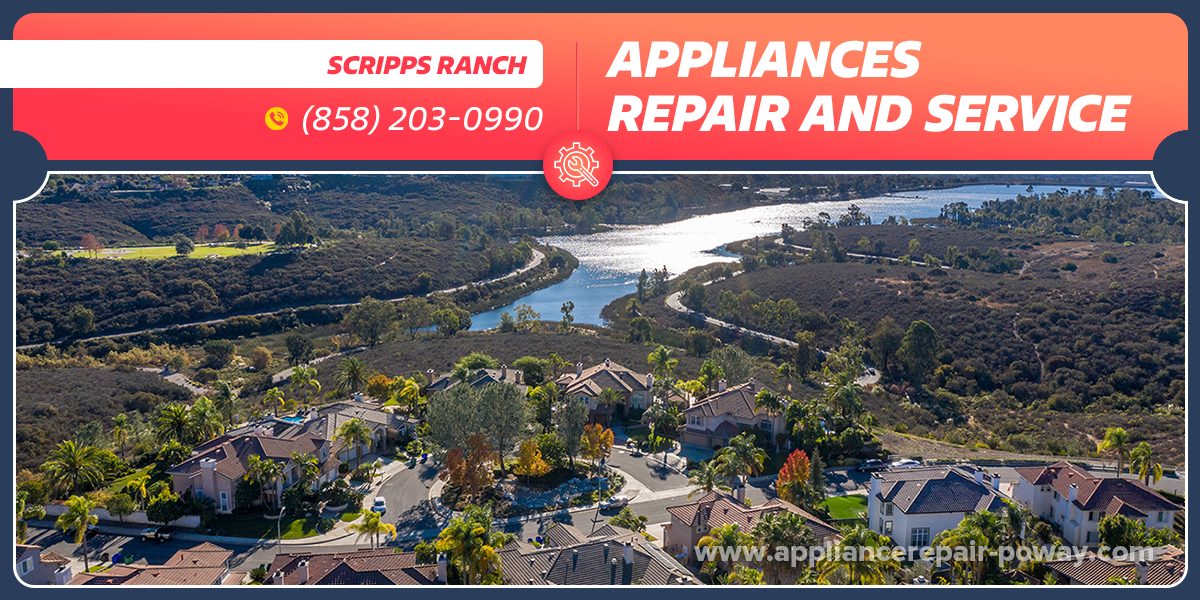 Scripps Ranch Appliance Repair
Any home appliance can break and any breakage can lead to serious consequences. We understand how frustrating it can be when trouble like this happens. That's why, whenever you notice there is something wrong with your item, contact the best Appliance Repair in Scripps Ranch, CA. Poway Appliance Service Center is a professional team that offers high-quality services at affordable prices.
Which Services Do We Provide?
Poway Appliance Service Center performs a wide range of services for repairing household appliances. Our experienced technicians work with any kind of equipment of different models and from all famous brands. Our company began to provide Scripps Ranch Appliance Repair and Service in 2001. 
We are constantly expanding the list of serviced equipment. Today you can fix almost anything with us. During all this time we have earned the respect and trust of our customers. We have many regular clients who recommend us to others and come back to us! Our job is to help you. So we do Scripps Ranch Appliance Repair efficiently, quickly, and with a guarantee.
The use of electronics in everyday life has long been a natural necessity in every home. But even the most reliable equipment wears out over time. You should trust only specialists when you need Appliance Repair in Scripps Ranch, CA. We can guarantee high-quality repair of household appliances because we are sure of our craftsmen who have 20+ years of experience.
Before applying for Scripps Ranch Appliance Repair and Service, you need to consider the services provided. Most often, clients contact us for the following services:
Appliance Repair in Scripps Ranch, CA

.
Regular maintenance.

Assistance in installation and initial start-up.
We periodically update this list with new repair services. Employees of our company qualitatively restore all types of large-sized household appliances:
washing machines;

refrigerators;

dishwashers;

drying machines;

ovens;

microwaves;

air conditioners;

electric stoves and hobs;

electric boilers and gas boilers;

commercial refrigeration equipment.
Order Repair Services from Professionals
When making a call, our specialist finds out the symptoms of a breakdown. You need to tell us as many details about your appliance as you can. This will help us to select the appropriate master. We carry out work at the customer's home, which saves you a lot of time and money.
Our technicians have been providing the most reliable Appliance Repair in Scripps Ranch, CA for more than 20 years. This means that our clients trust us, and there is a reason for it. Our specialists offer all-home appliance repair in all cases with all brands with no limits.
We have a team of experts who are professionally trained to carry out any type of repair. Our specialists can easily cope with any complex breakdown as well as utilize the latest technology and equipment. This helps us to carry out a fast and efficient service with a correct diagnosis and following high-quality repair. 
Almost any case of appliance breakdown we can fix at your home, on the same day. You do not have to wait for days or hours for our repair team. You can be sure that we'll provide repairs right away. All of our specialists are always equipped with common repair parts and professional tools.
In our stocks, we always keep original spare parts and consumables for all popular brands of household appliances. Therefore, you can be sure that we will repair a breakdown of any complexity with a long-term guarantee. Call us or place your order online. Poway Appliance Service Center technicians will come asap to provide the best Scripps Ranch Repair and Service.
Our specialist carries out repairs, works carefully in the process, so as not to leave behind any traces of equipment repairs, and not to spoil the appearance. After the repair is completed, our company will back it up with a 90-day labor warranty. If you encounter the same problem during the warranty period, rest assured we will return to get an appliance back up to perfectly working condition.
$30 OFF ON FIRST TIME SERVICING
Frequently asked questions
What if I have a complex repair of equipment?
Our specialist will come to your home, conduct diagnostics and offer solutions to the problem. And only after your consent, the repair will begin.
Do you have customer support?
Our managers will always listen carefully to you and give you initial recommendations on the malfunction of your equipment to determine the cost of repair. Call:
(858) 203-0990
Is the expert's visit free of charge?
If you order a call to the master through our website, you are guaranteed to get a free diagnosis of your device, and detection of breakage.