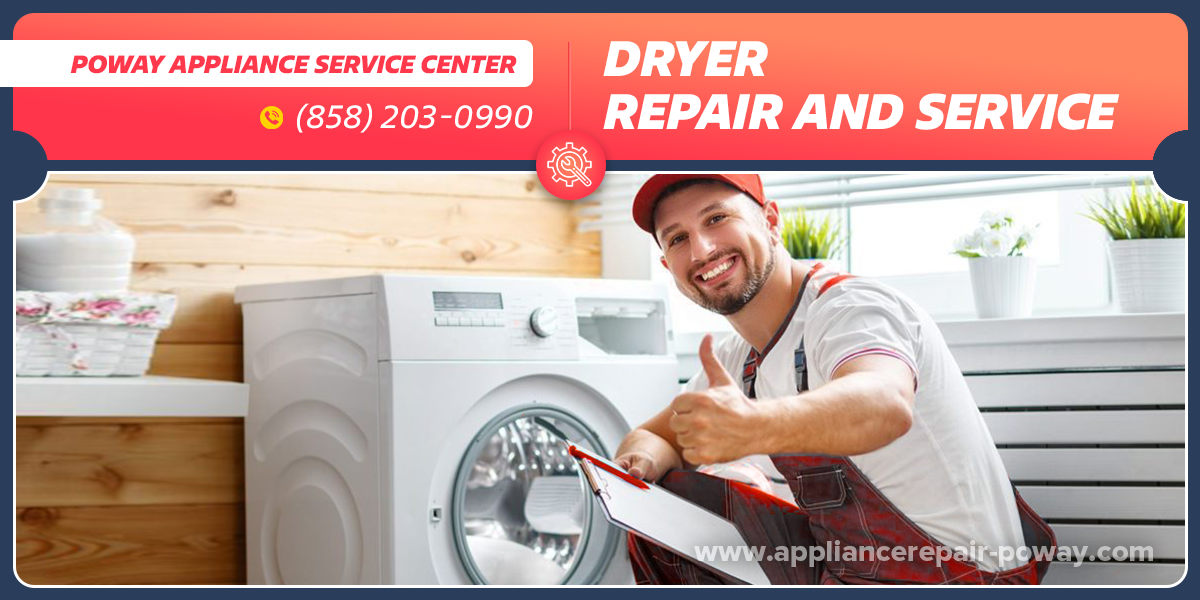 Poway Appliance Service Center offers Dryer Repair in San Diego County. We repair power control boards, replace the drain pump, replace the heat gun, and diagnose the malfunction of dryers. Tell our specialist the model of your dryer and describe the problem. That's all you have to do to get professional services.
The Most Common Dryer Failures
In most cases, dryers break down when the user ignores the manufacturer's recommendations. Periodic cleaning of the heat exchanger and filters is the first thing you need to pay attention to. After all, more than half of the dryer breakdowns are due precisely to a clogged heat exchanger and fluff filters. 
There are two types of dryers, with a heat pump and with a heat dryer. The nature of the breakdowns of each model is different. But almost all manifest themselves in the same way. If the dryer does not dry, does not turn on, spontaneously turns off, gives an error, or dries things badly, call the technician right now.
Only a thorough diagnosis of the dryer technician can give a complete picture of further actions. Before replacing a thermostat part, a specialist will always check the reasons for which overheating could occur. This applies to all breakdowns that may happen with the dryer. The cost of dryer repair depends on the correct diagnosis. Call us and our specialist will diagnose and provide Dryer Repairs the same day.
When Do You Need Professional Help?
The low demand for dryers causes an insufficient number of qualified dryer technicians. But only professional specialists can do the high-quality work and provide post-warranty service with a home visit. Therefore, contacting our official service center for Dryer Repairs is the right step to return the equipment to working capacity.
When your dryer is acting up, don't stress! Our experienced technicians are here to help with prompt and reliable dryer repair services. From malfunctioning heating elements to noisy operation, we've got you covered. Trust us for efficient repairs that get your dryer back in action. Contact us today for professional and convenient Dryer Repair Near You.
We combine possible devices breakdowns that need to call a technician for Dryer Repair and Service into several groups:
The appliance does not turn on, buttons do not work. Functional blocking occurs if there is a problem with the control unit or with the wiring. A less serious reason is a broken door lock or loose closure.

The dryer turns on and starts to work but the drum does not spin. First, check if there is an overload. After a thorough diagnosis, various causes of a malfunction can be detected, including failure of the drum bearings and drive belt.

Water leak. A possible cause is a malfunction of the condensation and dehumidification system. Only after calling the dryer repairman, it will become clear what kind of malfunction happened.

Things after drying remain damp. Often a malfunction occurs if the fan or heating element is broken.

Knocks out plugs after turning on the dryer. The specialist will check the control board, heating element, and contacts, which can oxidize due to high humidity.

Increased vibration and extraneous sounds. A common cause is a constant overload, which can lead to the destruction of the bearings and the drive belt.
To prolong the service life of the dryer, carefully study the user's instructions. Do not overload the machine and follow safety precautions. It is important to provide Dryer Repair by cleaning the filters regularly to ensure sufficient air circulation.
Where To Order Urgent Dryer Repair in San Diego County?
Our service center specializes in eliminating various breakdowns of household appliances. The price for Dryer Repairs Services will not hit your budget. Submit your request for a repair of any complexity:
Simple repairs, not requiring disassembly of the unit or a long search for a defect. For example, replacement of buttons, handles, accessories, power cords, etc.

Dryer Repair 

of medium complexity, when it is necessary to clean the drain and replace some components such as the door lock or drive belt.

Complex repairs, which require skills and additional equipment in case of failure of the indication board, control unit, etc.
Looking for professional Dryer Repair in Poway? Look no further! Our expert technicians are equipped to handle all your dryer woes. From heating issues to drum problems, we've got you covered. With our reliable and efficient service, we'll have your dryer up and running in no time. Say goodbye to damp clothes! Contact us today for top-notch dryer repair in Poway.
Regardless of whether you need to replace the pump, heating element, or drainage valves, contact the specialists!
Our technicians provide urgent dryer repairs at home in San Diego County and around the area. Leave a request on the website or call us. We will send a specialist for diagnostics and consultation at a convenient time for you. If you have an issue with your dryer or need just some maintenance for it, don't delay. Call Poway Appliance Service Center now to get Dryer Repair and Service.
Our specialist carries out repairs, works carefully in the process, so as not to leave behind any traces of equipment repairs, and not to spoil the appearance. After the repair is completed, our company will back it up with a 90-day labor warranty. If you encounter the same problem during the warranty period, rest assured we will return to get an appliance back up to perfectly working condition.
$30 OFF ON FIRST TIME SERVICING
Frequently asked questions
What if I have a complex repair of equipment?
Our specialist will come to your home, conduct diagnostics and offer solutions to the problem. And only after your consent, the repair will begin.
Do you have customer support?
Our managers will always listen carefully to you and give you initial recommendations on the malfunction of your equipment to determine the cost of repair. Call:
(858) 203-0990
Is the expert's visit free of charge?
If you order a call to the master through our website, you are guaranteed to get a free diagnosis of your device, and detection of breakage.