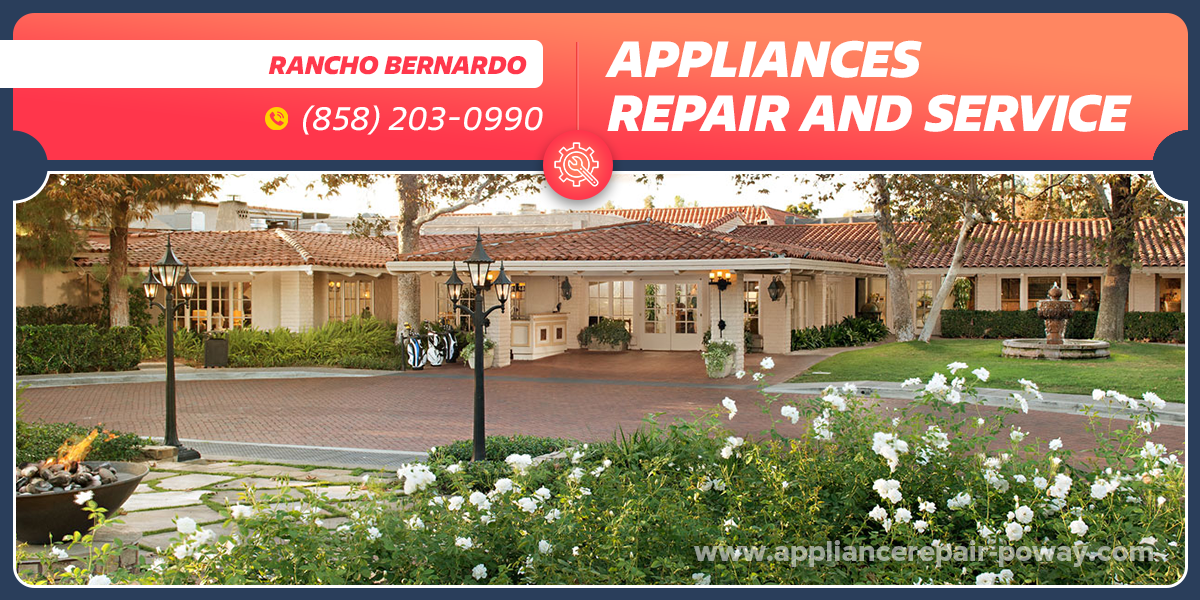 Rancho Bernardo Appliance Repair
Are you having trouble with an appliance and are looking for reliable appliance repair services in Rancho Bernardo? You are in the right place, call Poway Appliance Service Center or reach us online! Make sure you are receiving professional in-time service and forget about any technical issue ruining your plans or household. We provide the best Appliance Repair in Rancho Bernardo, CA at affordable prices.
Fast and Reliable Appliance Repair
Is your washing machine or dishwasher broken? Do you have a leaky refrigerator? Is the electric stove out of order, or the water heater refuses to work? In such situations, do not panic and look for random craftsmen in ads. Our company will help you. Just call us. Within an hour, a household appliance repairman will come to you to provide Appliance Repair in Rancho Bernardo, CA.
Our technicians know that timely appliance repairs can prevent multiple unpleasant and even dangerous situations. That's why our Rancho Bernardo Appliance Repair and Service team is fast and reliable. We are making sure that even a small fix applied to your appliance is efficient and carried out correctly. 
A specialist will perform all-home Rancho Bernardo Appliance Repair within one day since you send the request. We always make the service flexible enough to match your personal schedule. Our specialists work 7 days a week to be available whenever you request help. Do you need an urgent service? Mention it in your order, and our appliance doctor will set off asap, to fix all your items.
Why do Customers Choose Our Service Center?
Our company is pleased to offer a wide range of services for the installation, repair, and maintenance of household appliances. Turning to us, you will receive high-quality work in a short time. We repair small and large household appliances for work, regardless of the year of manufacture and the manufacturer.
Why choose our service center:
Affordable prices for

Appliance Repair in Rancho Bernardo, CA

. We purchase spare parts, consumables, and components from the manufacturer at wholesale prices. This way we avoid cheating and reduce the cost of repairs. We offer services at a good price with a professional approach.

Short terms. Upon request, a master comes from your or the nearest area. The waiting time is less than an hour from the time of the call. We solve your problem in one visit. The technician always has tools and spare parts with him.

Qualified personnel. Our employees have been trained in the maintenance of refrigerators, washing machines, and other complex equipment. Their qualification is confirmed by diplomas and certificates.

We provide

Rancho Bernardo Appliance Repair and Service

right at home. There is no need to overpay for transportation to a service center or workshop.
We always try to repair appliances in such a way that the client will recommend our company to others. Our specialists immediately tell you the exact cost of the Appliance Repair in Rancho Bernardo, which then does not change. The situation when the master asks for a much larger amount after the work is excluded.
In addition, you will receive for free:
diagnostics and troubleshooting;

examination of other components and assemblies;

recommendations for the care of further operation.
All these reasons multiplied by decades of experience made us value your time, comfort, and safety. This is the feature that makes our customers get back to us again and again. It helps us year after year to improve the quality of the service. Be sure you are at the right place to bring any of your appliances back to good condition. 
To use the service, simply call us at the numbers listed on the website or fill out your application online. Poway Appliance Service Center specialists will contact you in a short time to provide professional advice and answer your questions. We will immediately send the master to the specified address to provide Rancho Bernardo Appliance Repair and Service.
Our specialist carries out repairs, works carefully in the process, so as not to leave behind any traces of equipment repairs, and not to spoil the appearance. After the repair is completed, our company will back it up with a 90-day labor warranty. If you encounter the same problem during the warranty period, rest assured we will return to get an appliance back up to perfectly working condition.
$30 OFF ON FIRST TIME SERVICING
Frequently asked questions
What if I have a complex repair of equipment?
Our specialist will come to your home, conduct diagnostics and offer solutions to the problem. And only after your consent, the repair will begin.
Do you have customer support?
Our managers will always listen carefully to you and give you initial recommendations on the malfunction of your equipment to determine the cost of repair. Call:
(858) 203-0990
Is the expert's visit free of charge?
If you order a call to the master through our website, you are guaranteed to get a free diagnosis of your device, and detection of breakage.