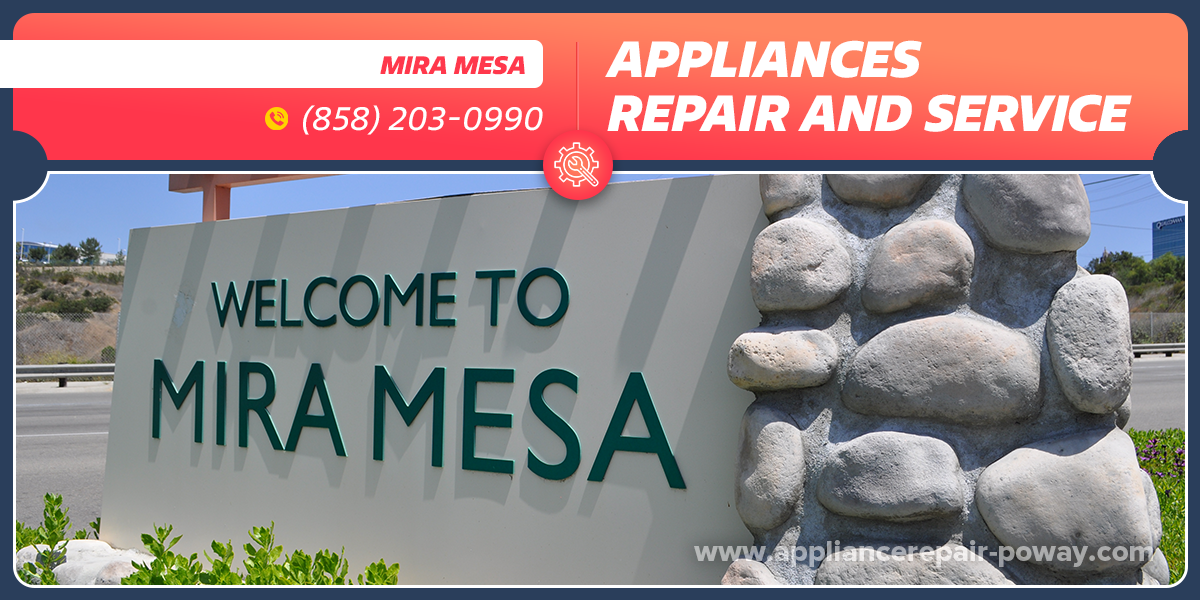 Mira Mesa Appliance Repair
Do you live in Mira Mesa? Are you looking for a reliable appliance repair? Poway Appliance Service Center is the solution. Our company has been in the appliance repair market for more than two decades. We know that all-home appliance repair is good when it is fast and reliable. If you are searching for experienced professionals who will provide Appliance Repair in Mira Mesa, CA place your order anytime. 
Professional Diagnostics of Household Appliances
Before repairing, it is important to determine what the problem is. This process is called diagnostics. The main troubleshooting before Mira Mesa Appliance Repair includes several manipulations:
Checking the performance of the device. It does not always happen that the device is completely "dead". It is necessary to check that the appliance does not turn on at all or turns on and immediately turns off. Sometimes just some specific buttons or functions do not work.

Visual inspection. Externally, you can identify most problems with an electrical appliance. These can be simply burnt components such as diodes, resistors, transistors, and capacitors. Sometimes you can have problems with soldering defects or mechanical damage to the elements and the printed circuit board itself.

3. Measurements. If the board and parts look normal, then you should proceed to the measurements. They are carried out mainly with a multimeter. In some cases, we use specialized devices such as frequency meters, logic analyzers, and so on.
Professional diagnostics allow us to accurately determine the breakdown and methods for Appliance Repair in Mira Mesa, CA. Also, based on the diagnosis, our specialist can determine the probable cause of the breakdown. The specialist will give you recommendations for the further operation of household appliances.
Our Mira Mesa Appliance Repair and Service provides the following services:
Professional installation of such devices as washing machines, dryers, dishwashers, food waste grinders, gas and electric cooking surfaces, gas and electric ovens, boilers, etc.

Prompt and high-quality repair of kitchen appliances. We provide services for microwaves, meat grinders, food processors, juicers, blenders, mixers, toasters, multi-cookers, double boilers, vegetable dryers, bread makers, coffee makers, coffee machines, etc.

We also provide services for the repair of such climate equipment as air humidifiers, fans, heaters, fan heaters, air conditioners, etc.
When ordering Appliance Repair in Mira Mesa, CA, you significantly save money and precious time. We provide discounts for regular customers. It is profitable to work with us, as you get a high-level service at affordable prices!
Why Do Clients Choose US?
Finding a good Mira Mesa Appliance Repair and Service may seem like a daunting task but it's not. The main features of a reliable service center are numerous positive feedback and a wide range of services provided. We offer an average rate and availability of a post-repair warranty on work and components. Additional benefits can be a convenient work schedule or the ability to invite a master to your home. All these characteristics correspond to our company.
Affordable prices and a friendly attitude make thousands of our clients stay with us for years. We are a company that cares about your time, funds, and comfort. Our specialists are not only ready to repair any of your home appliances. We will give you professional advice on how to maintain them to obtain any future issues.  
Every household appliance is an important part of your home. We are here to make sure it keeps servicing you for multiple years without causing any trouble. If you notice any problem with your appliance, do not waste your time expecting it to dissolve on its own. 
We earned numerous positive reviews for Appliance Repair in Mira Mesa, CA from our customers for a reason. You can contact us with any problem related to the repair of household appliances. Our craftsmen have experience working with all popular brands and models of household appliances. All necessary spare parts are available in our stocks. Therefore, there are no such problems that our masters could not solve.
Remember that even the smallest malfunction can cause serious consequences. Mira Mesa Appliance Repair and Service is available asap on the same day when you request it. We will make sure your issue does not run into costly and premature failure. Poway Appliance Service Center is the fastest and the most reliable. Call us now and get your item working again!
Our specialist carries out repairs, works carefully in the process, so as not to leave behind any traces of equipment repairs, and not to spoil the appearance. After the repair is completed, our company will back it up with a 90-day labor warranty. If you encounter the same problem during the warranty period, rest assured we will return to get an appliance back up to perfectly working condition.
$30 OFF ON FIRST TIME SERVICING
Frequently asked questions
What if I have a complex repair of equipment?
Our specialist will come to your home, conduct diagnostics and offer solutions to the problem. And only after your consent, the repair will begin.
Do you have customer support?
Our managers will always listen carefully to you and give you initial recommendations on the malfunction of your equipment to determine the cost of repair. Call:
(858) 203-0990
Is the expert's visit free of charge?
If you order a call to the master through our website, you are guaranteed to get a free diagnosis of your device, and detection of breakage.