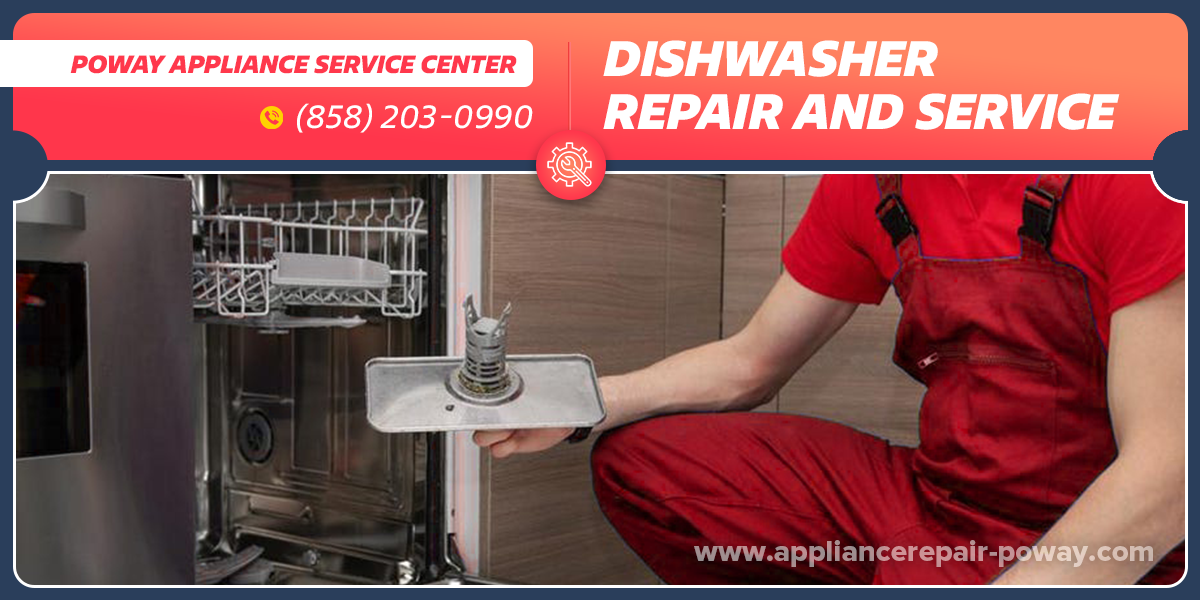 Dishwasher Repair and Service
A dishwasher is not an appliance without which you could not survive. However, sometimes its failure can cause many unpleasant moments. What if you have had a party and you need to wash lots of dishes? The situation becomes worse, if you have planned your time, and washing piles of dishes was not in your plans. In such cases, just call Poway Appliance Service Center which provides professional Dishwasher Repair in San Diego County, CA.
Common Dishwasher Failures
Poway Appliance Service Center is a professional Dishwasher Repair and Service company. We provide qualified Dishwasher Repairs to San Diego County residents.
Modern home appliances are smart and useful devices. A dishwasher is already a familiar kitchen attribute, although not yet as common as a washing machine or refrigerator. Its features are the convenience and high quality of washing dishes. But there are a large number of possible breakdowns, due to which you can need Dishwasher Repair services.
Problems can occur frequently, for example, because of poor quality of the water or power failures. It is usually possible to carry out such Dishwasher Repairs at home without significant waste of time. Much more dangerous are technical problems. Internal failure of the unit may require sending the machine to a service center.
Typical faults include:
Unable to start the machine. Failure usually occurs due to a clogged filter.

Failure of the circulation pump. The technician will replace it with a new one.

The water drain doesn't work. The process of removing contaminants from the system is based on the distillation of water using a pump. It is followed by removal through a hose through an internal pump. A failure in the operation of one chain element does not allow even opening the door to remove the dishes.

Failure to set temperature. Such a malfunction occurs because of the sensor or the heating element.
Several technical problems arise because of the background of factory defects or neglect of operating rules:
The machine shocks. In many ways, one of the dangerous breakdowns is a malfunction of the heating element.

Water leaks on the floor. This malfunction brings big troubles with flooding neighbors or swelling of the flooring. Moreover, you can avoid large financial expenses using timely

Dishwasher Repairs and Services

. 
Any malfunction in household appliances requires qualified assistance. Self-elimination of the problem often leads to complex structural failure of the unit and even more expenses.
To extend the dishwasher service life, it is worth calling our technician. The convenience of the service lies in the round-the-clock assistance and providing a warranty. We always replace worn components with original spare parts at the best prices.
Dishwasher Repair Prices
Are you looking for affordable dishwasher repair services? You have come to the right place. Our experienced specialists will perform all the necessary Dishwasher Repair at a high level. The cost of services depends on the complexity of the upcoming repair, the price of a spare part, as well as the warranty period for repairs.
We appreciate each of our clients and try to set minimum rates with high-quality services. This approach to pricing allows us to compete with other service centers in San Diego County at a decent level. If you want a reasonable dishwasher repair cost, please contact us.
We are confident in the qualifications and experience of our employees, who perform their work flawlessly. Since 2001, we have earned an impeccable reputation, which we value very much. Professional service is quality at all stages, from the application to the completion of the repair. This is exactly what you get when you turn to us for help.
We are available 24/7, whenever you need Dishwasher Repair and Service. Call us or fill in the order form on our website. Your order will be processed immediately. And your dishwasher will be fixed on the day of the call. Entrust the life of your appliance and your comfort to professionals. Call Poway Appliance Service Center now!
Our specialist carries out repairs, works carefully in the process, so as not to leave behind any traces of equipment repairs, and not to spoil the appearance. After the repair is completed, our company will back it up with a 90-day labor warranty. If you encounter the same problem during the warranty period, rest assured we will return to get an appliance back up to perfectly working condition.
$30 OFF ON FIRST TIME SERVICING
Frequently asked questions
What if I have a complex repair of equipment?
Our specialist will come to your home, conduct diagnostics and offer solutions to the problem. And only after your consent, the repair will begin.
Do you have customer support?
Our managers will always listen carefully to you and give you initial recommendations on the malfunction of your equipment to determine the cost of repair. Call:
(858) 203-0990
Is the expert's visit free of charge?
If you order a call to the master through our website, you are guaranteed to get a free diagnosis of your device, and detection of breakage.