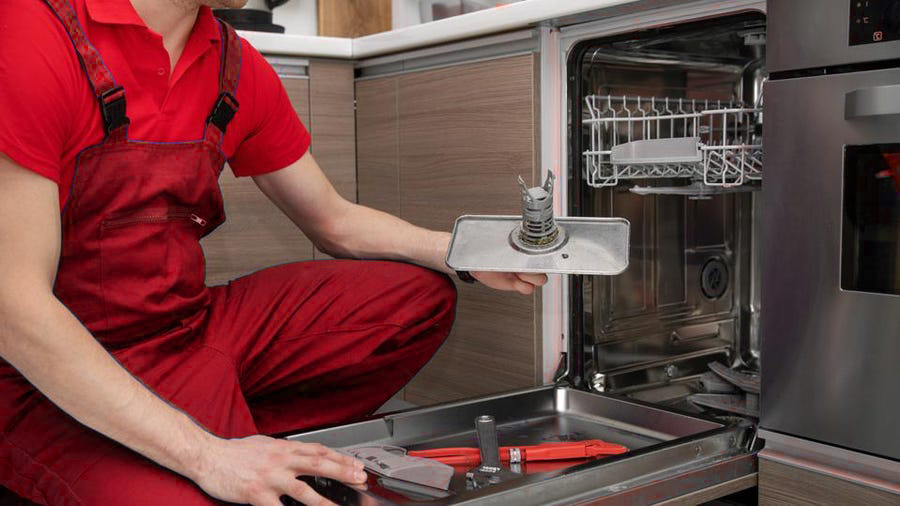 Dishwasher Repair Service
A dishwasher is not an appliance without which you could not survive. However, sometimes its failure can cause many unpleasant moments. What if you have had a party and lots of dishes are to be washed? The situation becomes more unpleasant, if you have already planned your time, and washing piles of dishes was not in your plans. In such cases, just call Poway Appliance Repair Service Center which provides services in Scripps Ranch, Mira Mesa, 4S Ranch, Ramona, Rancho Santa Fe, Rancho Penasquitos, Rancho Bernardo, and Poway dishwasher repair service.
That's why it is important to know where to get a fast and reliable home appliance repair service. Don't delay with it, because a dishwasher, when it has a malfunction, can cause a range of more serious issues, such as flooding or fire. There is no need to wait till it happens, just make sure your home appliance is maintained and serviced whenever you notice even the least significant issues. If water doesn't fill or leaks, if the dishwasher stopped washing dishes properly, if it doesn't heat in time or doesn't cool down during the setup time, if it vibrates or generates excessive sound, call Poway Appliance Repair Service Center immediately. Whatever unusual you notice in the operation of your dishwasher, seek professional help from a qualified appliance technician.
We understand that any breakage of any home appliance is something that changes your plans and is unpleasant. So we provide the fastest and the most reliable appliance repair in Poway. Our technicians are trained to handle even the most complicated issues and they work even with the rarest brands. Our qualified appliance engineer is able to fix a dishwasher even if you brought it from abroad. We have those spare parts that are in the highest demand in stock. You don't need to wait till a part arrives, which reduces the time needed for preparation. We use only original parts, or their analogs recommended by a dishwasher manufacturer. Our household repair services are highly reliable. Your dishwasher will work as if it were new. Our appliance doctor will issue you a guarantee on the work he has done.
If you need an urgent service, you can mention it in your order. Our appliance repairman will be at the address indicated in your order within 15 minutes. You will get your dishwasher function again asap. Most issues are fixed on the same day. We know that organizing the delivery of a dishwasher to any service center is a troublesome and time-demanding thing. Our specialists perform in most cases home appliance repair. This is one more thing that our clients value.
We are available 24/7, whenever you need your dishwasher to be repaired. Call us or fill in the order form on our website. Your order will be processed immediately, and your dishwasher will be fixed within record time. Entrust the life of your appliance and your comfort to professionals, call Poway Appliance Repair Service Center now!
Our specialist carries out repairs, works carefully in the process, so as not to leave behind any traces of equipment repairs, and not to spoil the appearance. After the repair is completed, our company will back it up with a 90-day labor warranty. If you encounter the same problem during the warranty period, rest assured we will return to get an appliance back up to perfectly working condition.
$30 OFF ON FIRST TIME SERVICING
Frequently asked questions
What if I have a complex repair of equipment?
Our specialist will come to your home, conduct diagnostics and offer solutions to the problem. And only after your consent, the repair will begin.
Do you have customer support?
Our managers will always listen carefully to you and give you initial recommendations on the malfunction of your equipment to determine the cost of repair. Call:
(858) 203-0990
Is the expert's visit free of charge?
If you order a call to the master through our website, you are guaranteed to get a free diagnosis of your device, and detection of breakage.