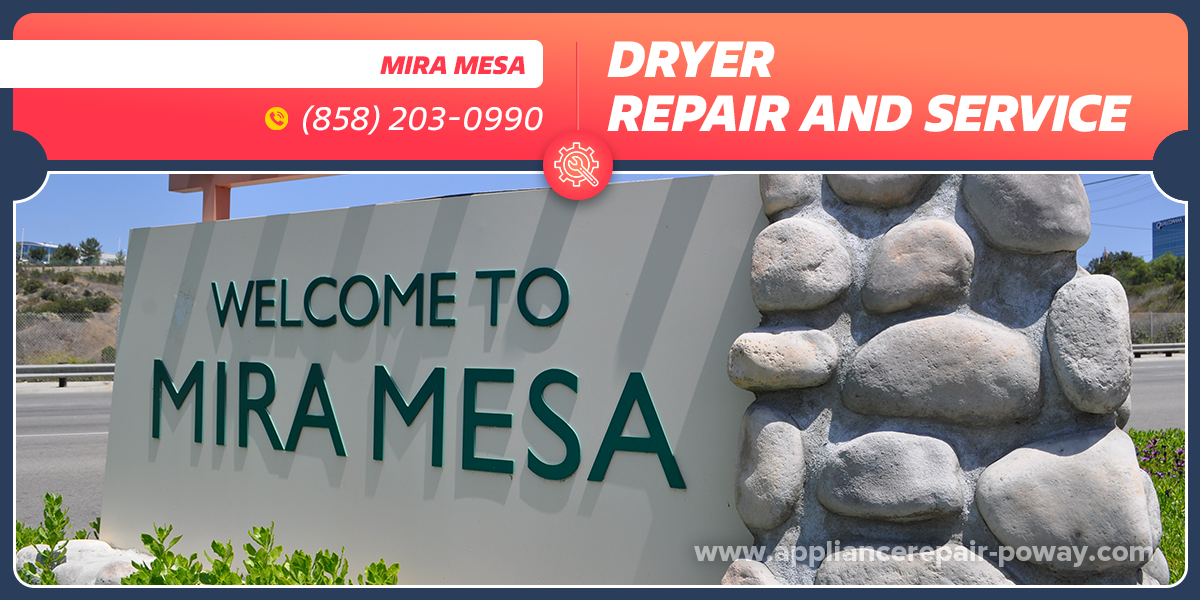 Dryer Repair in Mira Mesa
If your dryer is not working properly or not working at all, feel free to contact the Poway Appliance Service Center. Dryer Repair in Mira Mesa, CA is carried out by professionals who are well versed in such equipment. 
Our experts repair residential and commercial dryers to a high standard. Technicians effectively restore old and new models with any technical characteristics. We don't just work with technicians. They are professionals who are constantly evolving. Every 6 months, specialists attend refresher courses.
You have the opportunity to order Mira Mesa Dryer Repair any day. Our company operates all year round. You can just give us a call and tell us briefly about the problem. The technician will then know what needs to be done to correct the situation. Since we work 365 days a year, we have the ability to quickly respond to customer requests. In 95% of cases, a specialist arrives at the specified address on the same day.
Some customers who want to order Dryer Repair in Mira Mesa, CA receive telephone assistance. This happens if our manager understands that the client can solve the problem with his own hands. In such a situation, the specialist provides useful remote instructions. What is important, such consultations are absolutely free for anyone. You don't have to pay, even if you contacted our company for help for the first time.
Specialists who carry out Mira Mesa Dryer Repair are certified. This is a confirmation that our experts have all the necessary skills and knowledge. In addition, each employee of our company is insured. Technicians use only the best tools for diagnostics and repair. They have a positive effect on the quality and timing of the repair.
We are always ready to provide you with additional information about this service. Call us for a consultation. You may also find it helpful to visit Google and Yelp. You will find here testimonials from customers who have previously used Dryer Repair in Mira Mesa, CA. Many such clients describe the advantages of our company and specialists on the Internet.
Other interesting information about this service
Customers who order Mira Mesa Dryer Repair receive a quality guarantee. Firstly, it's a 90-day repair warranty. If there is even the slightest problem, you just need to give us a call. According to the terms of the warranty, if the failure occurs again within 3 months, the repair will be carried out free of charge. Secondly, our customers receive a 12-month warranty on new parts. We use only original products with quality certificates. These are the best spare parts available in our market.
Our clients always receive prompt repairs. The technicians who carry out Dryer Repair in Mira Mesa, CA are able to meet the tightest deadlines. This applies even to situations where there is a complex breakdown. Statistics show that repairs are completed on the same day in 90% of cases.
Are you facing a difficult situation with your dryer? Don't worry. Our specialists, who specialize in Dryer Repair in Mira Mesa near me, will cope with this task in a short time too. In urgent cases like these, we go the extra mile by sending 2-3 technicians to one client, which allows us to significantly reduce the repair time. 
We understand the importance of having a fully functioning dryer, especially when faced with time-sensitive laundry needs. Rest assured, our company will be of utmost assistance to you, providing prompt and reliable repairs for your dryer.
How to use the services of our company
To use Mira Mesa Dryer Repair and Service, you can leave a request by phone. Find the phone number of our company on the site. After agreeing on the details, the specialist will send one or more experts to you. You can also fill out the feedback form if you want to order a repair. The Poway Appliance Service Center specialist will contact you within 1-3 minutes. Briefly describe the situation to our manager. If a technician visit is required, you will need to provide your address.
Our specialist carries out repairs, works carefully in the process, so as not to leave behind any traces of equipment repairs, and not to spoil the appearance. After the repair is completed, our company will back it up with a 90-day labor warranty. If you encounter the same problem during the warranty period, rest assured we will return to get an appliance back up to perfectly working condition.
$30 OFF ON FIRST TIME SERVICING
Frequently asked questions
What if I have a complex repair of equipment?
Our specialist will come to your home, conduct diagnostics and offer solutions to the problem. And only after your consent, the repair will begin.
Do you have customer support?
Our managers will always listen carefully to you and give you initial recommendations on the malfunction of your equipment to determine the cost of repair. Call:
(858) 203-0990
Is the expert's visit free of charge?
If you order a call to the master through our website, you are guaranteed to get a free diagnosis of your device, and detection of breakage.