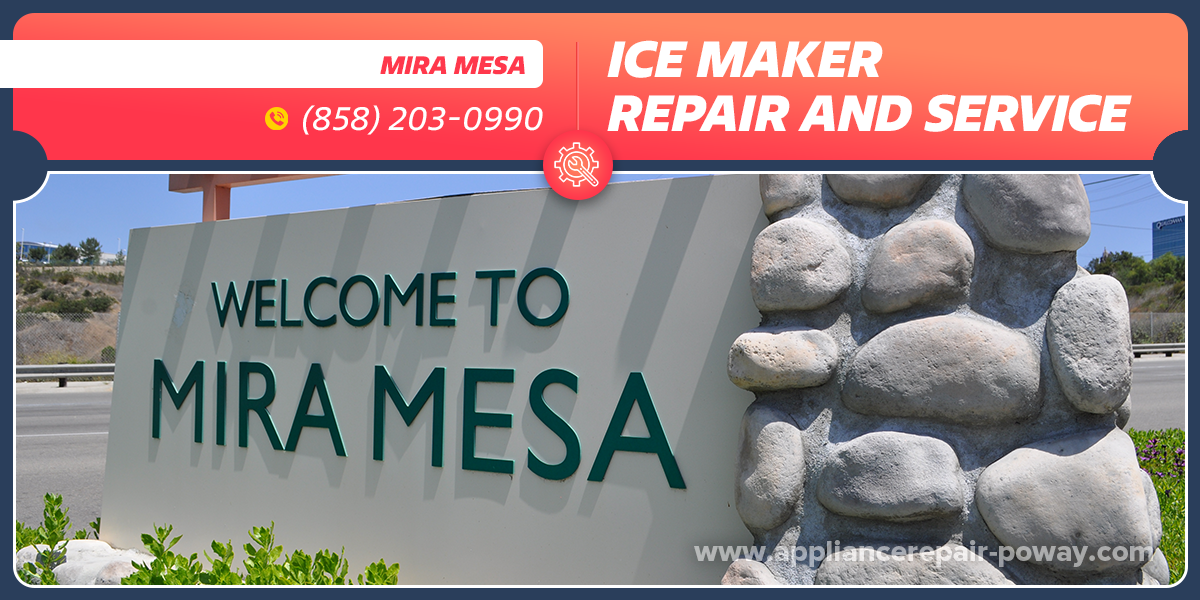 Ice Maker Repair in Mira Mesa
Is your ice maker not turning on? Or maybe the equipment no longer makes well-shaped ice cubes? Whatever the breakdown is, you can safely turn to the Poway Appliance Service Center for help. Order Ice Maker Repair in Mira Mesa, CA to get help from real experts in their field. Our technicians have over 20 years of experience. The professionals started their business in 2001. Each employee of our company has a certificate and insurance. We work officially, so all the rights of our customers are protected by law.
Our technicians have an important advantage. Experience shows that there are no unsolvable problems for the specialists. Whatever happens, order Mira Mesa Ice Maker Repair right away. First, the specialist will conduct a diagnosis to find the cause of the breakdown. 
After that, the expert will tell you about this cause and about the cost of the repair. After agreeing on the details, the technician will begin the repair and will definitely fix the problem.
It is important that we don't always send a technician to a customer who wants to order Ice Maker Repair in Mira Mesa, CA. Sometimes we understand that the client can solve his problem on his own. In such a situation, the visit of a technician is not necessary. If you encounter this situation, our specialist will provide you with instructions over the phone. It will help you solve the problem. The good news is that we don't charge our clients a fee for such consultations.
If you order Mira Mesa Ice Maker Repair and after the diagnosis decide to postpone the repair until later, you will need to inform our specialist about your decision. In this case, our clients pay only a service fee. This is a fee for a visit of the specialist. Within a month, you can change your decision. In this situation, the service fee becomes a part of the payment for the repair.
For over 20 years, Ice Maker Repair in Mira Mesa, CA has been ordered by a very large number of customers. Some of them praise the professionalism of our company on the Internet. Such reviews will be an important source of information for you. To see these comments, go to Google and Yelp. Also, to get more information about the service, you can call us by phone. You will receive a detailed consultation.
About other benefits of the Poway Appliance Service Center
We have a system of discounts. Three categories of customers pay less for repairs. Firstly, seniors and veterans get a $30 discount. Secondly, customers who order Mira Mesa Ice Maker Repair and Service online enjoy a $25 discount. If you have used our services before, inform our manager about it. The specialist will give you a 15% discount. This applies even to those clients who have contacted us for help only once before.
We guarantee the quality of repair not only in words. If you order Ice Maker Repair in Mira Mesa, CA, you will receive an official document upon completion of the work. This is a 90-day repair warranty. If even the slightest problem arises in the future, you will again receive help from our specialists.
There is another quality guarantee that we provide to our customers, including Ice Maker Repair in Mira Mesa near you. This is a 12-month warranty on new parts. If the installed spare part fails within a year, the specialist will replace it free of charge. After that, you will receive a new warranty (12 months too). You need to know that such situations are extremely rare. The fact is that we use only original spare parts from the best manufacturers.
How to use the services of our company
You can order Mira Mesa Ice Maker Repair and Service by phone. Our specialists are ready to discuss the details with you any day. Prepare a short information about your ice maker and the breakdown. An alternative way to order a repair is to use the feedback form. Find the appropriate box on the site and leave your contact details here. The Poway Appliance Service Center manager will contact you within 1-3 minutes.
Our specialist carries out repairs, works carefully in the process, so as not to leave behind any traces of equipment repairs, and not to spoil the appearance. After the repair is completed, our company will back it up with a 90-day labor warranty. If you encounter the same problem during the warranty period, rest assured we will return to get an appliance back up to perfectly working condition.
$30 OFF ON FIRST TIME SERVICING
Frequently asked questions
What if I have a complex repair of equipment?
Our specialist will come to your home, conduct diagnostics and offer solutions to the problem. And only after your consent, the repair will begin.
Do you have customer support?
Our managers will always listen carefully to you and give you initial recommendations on the malfunction of your equipment to determine the cost of repair. Call:
(858) 203-0990
Is the expert's visit free of charge?
If you order a call to the master through our website, you are guaranteed to get a free diagnosis of your device, and detection of breakage.