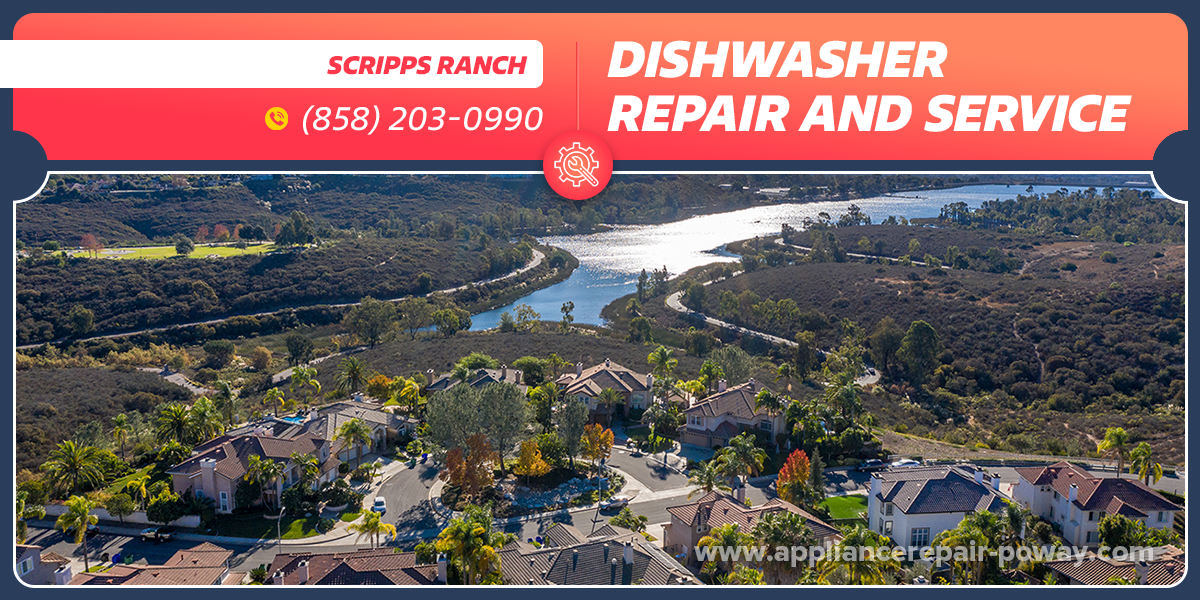 Dishwasher Repair in Scripps Ranch
Are you facing a dishwasher malfunction? Feel free to contact the Poway Appliance Service Center for help. It may be a very simple breakdown or the most complex one. Our technicians are able to restore dishwashers after any malfunction. How do we manage to do this? It's simple: Dishwasher Repair in Scripps Ranch, CA is carried out by professionals with over 20 years of experience. Our specialists started working in 2001. These are certified experts who have completed all the necessary training. They have vast experience and advanced skills.
For over 20 years, our technicians have worked with a huge variety of dishwashers. Therefore, you can order Scripps Ranch Dishwasher Repair, no matter what model you use. For example, our technicians repair with high quality the simplest models that we use at home. 
Specialists effectively restore the most powerful and expensive commercial options. In both cases, the successful outcome of the repair is guaranteed. Also, what is important, we work with appliances manufactured in any year. Extensive experience has made our specialists real all-rounders.
As mentioned above, technicians restore equipment after any breakdown. Order Dishwasher Repair in Scripps Ranch, CA, whatever happens. The work consists of two stages. First, the specialist conducts a thorough diagnosis and finds the cause of the breakdown. After that, the technician explains the situation to the client and informs about the cost of the repair. After agreeing on the details, the specialist proceeds to the repair itself.
Customers who order Scripps Ranch Dishwasher Repair may opt out of repair after diagnosis. If you decide that now is not the time to make repairs, let our expert know. In this case, you will only need to pay a service fee. We will give you a month to think. If you decide to change your mind, the service fee will become part of the repair fee.
Interested in learning more about our Dishwasher Repair service in Scripps Ranch, CA service? You have two options. Firstly, you can contact us and ask questions. The manager is ready to consult you. Secondly, you can read reviews of clients whom our specialists have already helped. To do this, visit Google and Yelp.
About the most common dishwasher malfunctions
Our experienced specialists have encountered all possible malfunctions during their work. This is not surprising since Scripps Ranch Dishwasher Repair and Service has been ordered by a huge number of customers. Want to know what these people most often complain about? We invite you to familiarize yourself with the relevant list.
The dishwasher periodically leaks water.

Water doesn't get inside the dishwasher; the equipment cannot perform its functions.

The water temperature is too high or too low.

The dishes remain dirty after washing.

You cannot close the dishwasher door tightly.

Some button has stopped working.

The equipment makes strange noises during operation.

The dishwasher vibrates heavily during operation.
Whatever happens, if you order Dishwasher Repair in Scripps Ranch, CA, you will receive a quality-assured repair. We provide clients with a document that entitles them to a 90-day warranty. Our experts will solve your problem if such a problem arises in the future.
How to order a repair
The Poway Appliance Service Center can help you every day. Our company operates all year round. Call us and tell us about your problem. The phone number of our company is listed on the website. The second way to order Scripps Ranch Dishwasher Repair and Service is through the feedback form. Leave your phone number in the box provided. A specialist of our company will call you within 1-3 minutes. After a short conversation, the manager will tell you if you need the help of a technician or not. If yes, you will need to tell the specialist your address.
Our specialist carries out repairs, works carefully in the process, so as not to leave behind any traces of equipment repairs, and not to spoil the appearance. After the repair is completed, our company will back it up with a 90-day labor warranty. If you encounter the same problem during the warranty period, rest assured we will return to get an appliance back up to perfectly working condition.
$30 OFF ON FIRST TIME SERVICING
Frequently asked questions
What if I have a complex repair of equipment?
Our specialist will come to your home, conduct diagnostics and offer solutions to the problem. And only after your consent, the repair will begin.
Do you have customer support?
Our managers will always listen carefully to you and give you initial recommendations on the malfunction of your equipment to determine the cost of repair. Call:
(858) 203-0990
Is the expert's visit free of charge?
If you order a call to the master through our website, you are guaranteed to get a free diagnosis of your device, and detection of breakage.