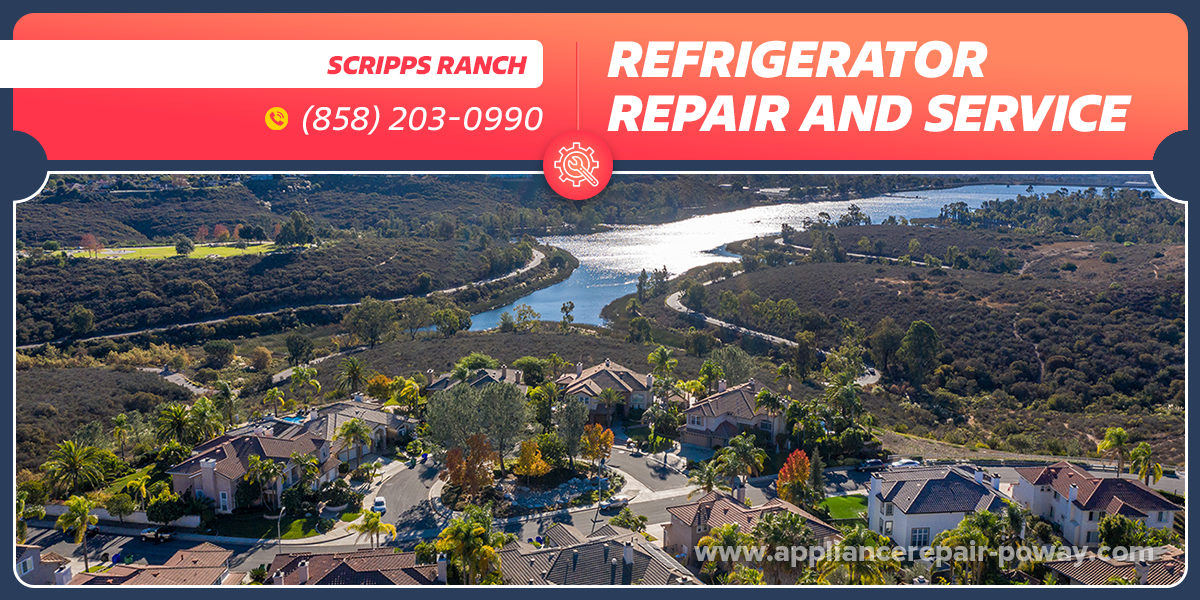 Refrigerator Repair in Scripps Ranch
Modern refrigerators have excellent maintainability. This means that in the vast majority of cases, the breakdown can be "painlessly" eliminated. The main thing is to entrust this work to real professionals. Modern models are complex, so skills and experience are important in this matter. We recommend contacting the Poway Appliance Service Center. Order Refrigerator Repair in Scripps Ranch, CA and our certified experts will be sure to solve your problem. The specialists have over 20 years of experience. They started working in 2001.
Whatever refrigerator model you have, you can order Scripps Ranch Refrigerator Repair without hesitation. We have real all-rounders who are well versed in this type of equipment. Specialists effectively restore commercial and residential models. 
When it comes to Refrigerator Repair in Scripps Ranch Near You, rest assured that our technicians are well-equipped to handle appliances with varying technical characteristics. Regardless of the specific features or specifications of your refrigerator, our skilled technicians will find the right approach to diagnose and repair the issue. Furthermore, our expertise extends to repairing refrigerators of any year of production. 
We stay up to date with the latest advancements in the industry while also possessing comprehensive knowledge of older models. Whether you have a brand-new refrigerator or a vintage appliance, our team is capable of providing the necessary repairs to restore its functionality. You can trust us to deliver reliable and effective repair services tailored to your specific refrigerator, regardless of its age or technical specifications.
For more than 20 years, our technicians have proven that they can solve all problems without exception. Whatever happens to your refrigerator, feel free to order Refrigerator Repair in Scripps Ranch, CA. The first step will be diagnostics. The technician will carefully inspect your equipment and find the cause of the breakdown. 
Most often, a part that has failed can be restored. If it cannot be repaired, the technician will replace the part. By the way, we use original spare parts in all cases. This is a guarantee of reliable operation of your refrigerator in the future.
Some customers who order Scripps Ranch Refrigerator Repair receive discounts from our company. Our regular customers pay 15% less for repairs. Customers who apply online receive a $25 discount. Seniors and veterans pay $30 less for repairs.
Many clients praise our professionalism and individual approach. Some of them do it online. Visit Google and Yelp to read testimonials from customers who have used Refrigerator Repair in Scripps Ranch, CA. If you would like to get more information, you can call us. Our specialist is ready to answer all your questions.
We guarantee that the repair will be successful
We have no doubt that your refrigerator will work flawlessly after our repair. Experience shows that the technicians of our company do their job very well. We want you to have no such doubts either. Therefore, if you order Scripps Ranch Refrigerator Repair and Service, we will provide you with a 90-day warranty. 
You will have three months to see how your appliance works. If there is any problem, we will carry out the repair again. This time it will be free.
Above we mentioned that our specialists use only original spare parts. These are quality guaranteed products. If our specialist installs a spare part in your refrigerator, you will receive a 12-month warranty. If this thing breaks within 12 months, rest assured that we will replace it for free. In short, if you use Refrigerator Repair in Scripps Ranch, CA, you will be protected from problems in the future. Our experts are always ready to help customers, and we responsibly fulfill our warranty obligations.
How to use the services of our company
If you would like to get professional assistance from the Poway Appliance Service Center, you can apply by phone. You have the opportunity to contact us any day. Our company operates all year round. An alternative way to order Scripps Ranch Refrigerator Repair and Service is to fill out the feedback form. Just leave your phone number in the appropriate box on the site. Our manager will call you within 1-3 minutes. If necessary, the specialist will send one or more technicians to you. You will need to indicate your address.
Our specialist carries out repairs, works carefully in the process, so as not to leave behind any traces of equipment repairs, and not to spoil the appearance. After the repair is completed, our company will back it up with a 90-day labor warranty. If you encounter the same problem during the warranty period, rest assured we will return to get an appliance back up to perfectly working condition.
$30 OFF ON FIRST TIME SERVICING
Frequently asked questions
What if I have a complex repair of equipment?
Our specialist will come to your home, conduct diagnostics and offer solutions to the problem. And only after your consent, the repair will begin.
Do you have customer support?
Our managers will always listen carefully to you and give you initial recommendations on the malfunction of your equipment to determine the cost of repair. Call:
(858) 203-0990
Is the expert's visit free of charge?
If you order a call to the master through our website, you are guaranteed to get a free diagnosis of your device, and detection of breakage.