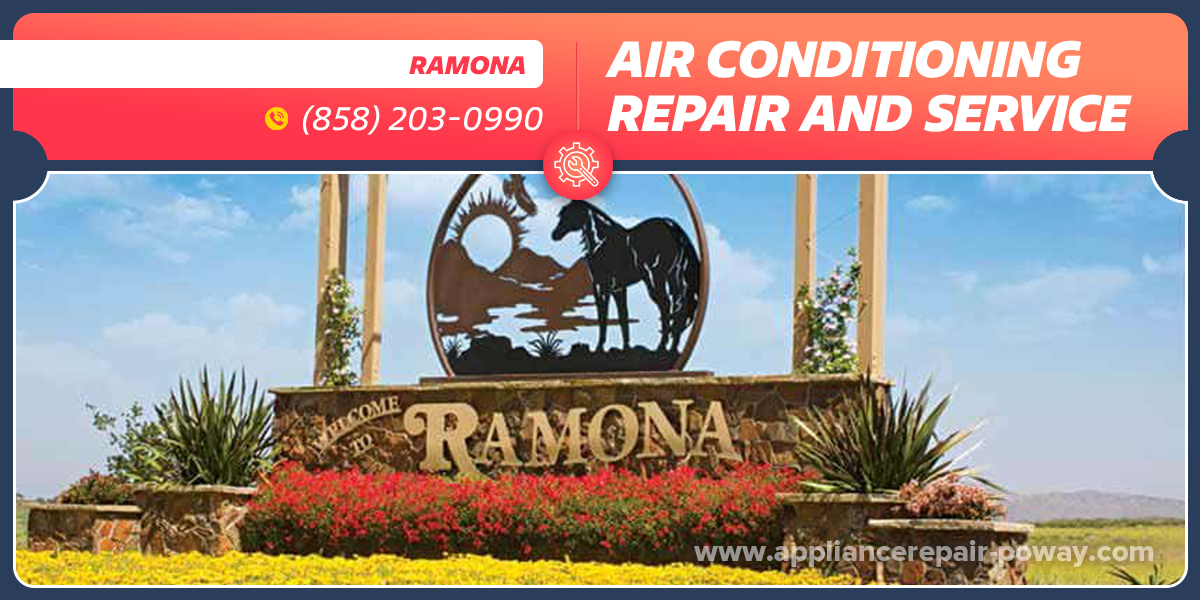 Air Conditioning Repair in Ramona
The air conditioning system cannot be correctly repaired if you don't have the appropriate knowledge and experience. This equipment is complex. Therefore, it is better to trust the repair to professionals. So, you will get a job well done and a guarantee of quality. If you notice a breakdown, contact the Poway Appliance Service Center. You can order Air Conditioning Repair in Ramona, CA any day that suits you. For you to have such an opportunity, our company operates all year round. Entrust this work to us, and your air conditioner will very soon work again without any problems.
There are dozens of types of breakdowns that can occur in air conditioning systems, as modern air conditioners are made up of many intricate parts. Each of these parts can potentially fail at some point. However, the good news is that our technicians are well-equipped to handle any problem, including Air Conditioning Repair in Ramona Near You. 
Their experience is a key success factor in effectively diagnosing and fixing air conditioning issues. Regardless of the specific problem your air conditioner is experiencing, you can rely on our skilled technicians to provide the necessary repairs and restore optimal performance to your system.
Technicians have been performing Ramona Air Conditioning Repair since 2001. In addition, the specialist attends refresher courses every 6 months. Thanks to this, they know everything about modern technologies and effective repair methods.
It doesn't matter to us what type of air conditioner you have. You can order Air Conditioning Repair in Ramona, CA in any case. Our technicians are able to work with commercial and residential models. The conditioner can be intended for cooling rooms of any area. In addition, specialists effectively repair equipment of any year of production. Rest assured, our professionals will find an approach to your appliance.
However, the experience and knowledge of experts are not the only factors that positively affect the quality of the repair. For example, it is important that we carry out Ramona Air Conditioning Repair using only original parts. They are a perfect option for certain models. Original parts last a long time. Each such thing has a certificate of quality.
Our clients receive an official warranty
You can be sure that your air conditioner will work perfectly after our repair. Even if some unforeseen circumstances arise, we will definitely help you. Customers who order Ramona Air Conditioning Repair and Service receive a 90-day warranty. Practice shows that if there is a problem, the owner can notice it within 3 months. Our experts are always ready to help in this case. All you need to do is give us a call.
If you order Air Conditioning Repair in Ramona, CA and our technician replaces the part, you will receive a 12-month warranty on this thing. The technician will provide a free replacement if the spare part breaks within these 12 months. After that, our specialist will provide you with a new warranty, which will be 12 months too.
The fact that our technicians carry out repairs to a very high standard doesn't mean that they spend a lot of time on it. Specialists usually finish their work on the same day. More precisely, it happens in 90% of situations. Therefore, if you need urgent repairs, feel free to order Air Conditioning Repair in Ramona, CA. We recommend that you do this immediately after discovering a breakdown. Repairs carried out in the early stages take much less time. In addition, if the breakdown doesn't cause serious damage, you will not need to pay much for this repair.
How to order a repair
If you decide to order Ramona Air Conditioning Repair and Service, you can call us. The manager will accept your application, agree on the details and send a technician to you. You can also use the feedback form. Find it on the Poway Appliance Service Center website. Leave your contact details and wait a bit. A specialist will contact you within 1-3 minutes. You will need to briefly describe the situation, indicate your address and choose a time for the technician to arrive.
Our specialist carries out repairs, works carefully in the process, so as not to leave behind any traces of equipment repairs, and not to spoil the appearance. After the repair is completed, our company will back it up with a 90-day labor warranty. If you encounter the same problem during the warranty period, rest assured we will return to get an appliance back up to perfectly working condition.
$30 OFF ON FIRST TIME SERVICING
Frequently asked questions
What if I have a complex repair of equipment?
Our specialist will come to your home, conduct diagnostics and offer solutions to the problem. And only after your consent, the repair will begin.
Do you have customer support?
Our managers will always listen carefully to you and give you initial recommendations on the malfunction of your equipment to determine the cost of repair. Call:
(858) 203-0990
Is the expert's visit free of charge?
If you order a call to the master through our website, you are guaranteed to get a free diagnosis of your device, and detection of breakage.