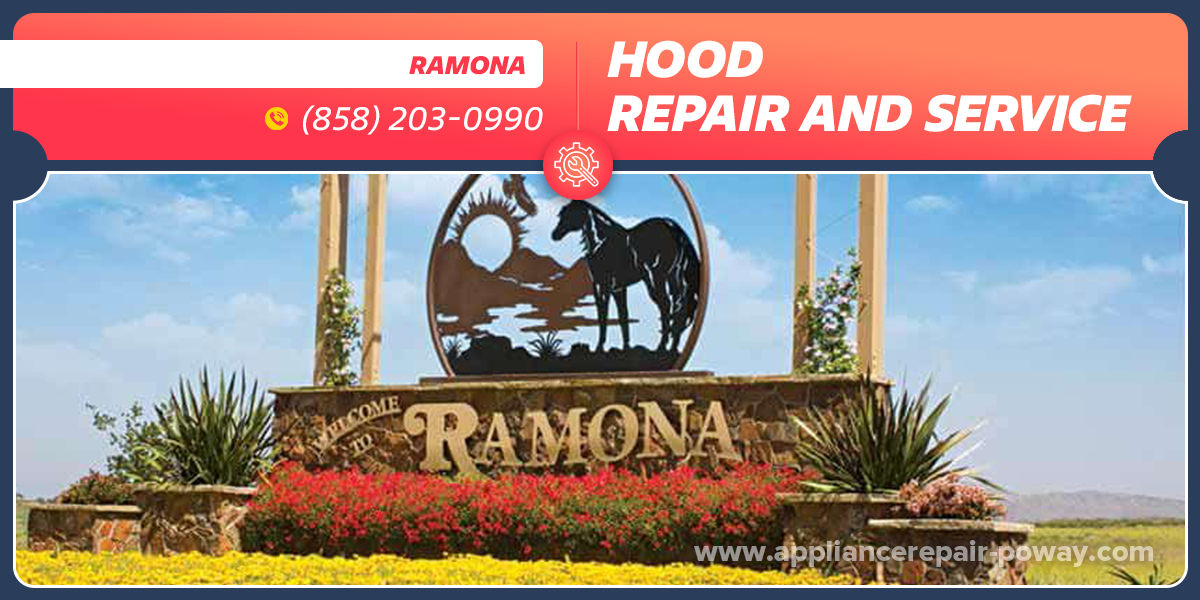 Do you want to get not only high-quality, but also quick repair of the hood? We recommend contacting experienced professionals. Such professionals do this work much faster than beginners. Asking the Poway Appliance Service Center for help is a great idea. Our specialists have been repairing such appliances for more than 20 years (since 2001). This applies to both commercial and residential equipment. We work with all hoods that are popular in our market. Hood Repair in Ramona, CA is carried out by professionals who are certified and insured.
To order Ramona Hood Repair, you can contact us and tell us about your problem. Be ready to answer a few questions from our expert. These questions will relate to the model of your hood, manufacturer and the breakdown itself. The manager will tell you if a technician visit is needed or not. If the answer is no, you will receive help over the phone. 
This happens if the clients can fix the situation on their own, and the visit of an expert will be a waste of money. An important point: telephone consultations are free in all cases.
If you cannot do without professional help, our manager will send a technician to you. The first stage of work will be a thorough diagnosis of the hood. The specialist will quickly inspect the equipment and tell you what caused the breakdown. Next, the expert will decide whether it is possible to restore the broken part or whether it needs to be replaced. 
You need to know that our technicians carry out Hood Repair in Ramona, CA using only original parts. This is an important factor that positively affects the operation of the equipment in the future.
Of course, every customer who orders Ramona Hood Repair receives a quality guarantee. This is a 90-day repair warranty. According to the terms of the warranty, in the event of a repeated breakdown within 3 months, repairs are carried out free of charge. Our customers also receive a 12-month warranty on new parts. We mentioned their high quality above.
Customers almost never use the warranty option. The reason is simple: hoods usually work without problems after our repair. Do you want to make sure of this? Read reviews from customers who have used Hood Repair in Ramona, CA. Find these comments on Google and Yelp.
We know how to save time for our clients
Rest assured that if you order Ramona Hood Repair and Service, your appliance will be repaired very soon. Our specialists quickly cope even with problems of increased complexity. This is not surprising, because experts have seen all possible malfunctions in 20 years. Accordingly, they already know how to eliminate each of them. 
According to statistics, repairs are completed on the same day in 90% of cases, including Hood Repair in Ramona Near You. Our specialists are highly efficient and skilled, ensuring they don't spend a lot of time looking for a solution to a problem or studying instructions. With their expertise and experience, they can quickly diagnose and resolve issues with hoods, ensuring a timely and efficient repair process. Count on our specialists to provide prompt and effective repair services for your hood appliance.
In addition, our company works seven days a week. You can order Hood Repair in Ramona, CA at your convenience and get professional help quickly. You are almost guaranteed to receive this help the same day you call. More precisely, this is possible in 95% of cases.
If you need urgent repairs, you can safely rely on us. In particular, we buy spare parts for hoods in reserve. This allows us to meet tight deadlines, even if there is a need to replace the spare part. Repair can be delayed only if there is a very complex breakdown. To avoid such a development of events, order repairs as early as possible.
How to use the services of our company
You can order Ramona Hood Repair and Service by phone. You can easily find the phone number of our company on the website. Once again, we will say that we are ready to accept your application any day. You can also use the feedback form. Find it on the Poway Appliance Service Center website. Leave your phone number and wait 1-3 minutes. Our specialist will contact you to agree on the details.
Our specialist carries out repairs, works carefully in the process, so as not to leave behind any traces of equipment repairs, and not to spoil the appearance. After the repair is completed, our company will back it up with a 90-day labor warranty. If you encounter the same problem during the warranty period, rest assured we will return to get an appliance back up to perfectly working condition.
$30 OFF ON FIRST TIME SERVICING
Frequently asked questions
What if I have a complex repair of equipment?
Our specialist will come to your home, conduct diagnostics and offer solutions to the problem. And only after your consent, the repair will begin.
Do you have customer support?
Our managers will always listen carefully to you and give you initial recommendations on the malfunction of your equipment to determine the cost of repair. Call:
(858) 203-0990
Is the expert's visit free of charge?
If you order a call to the master through our website, you are guaranteed to get a free diagnosis of your device, and detection of breakage.