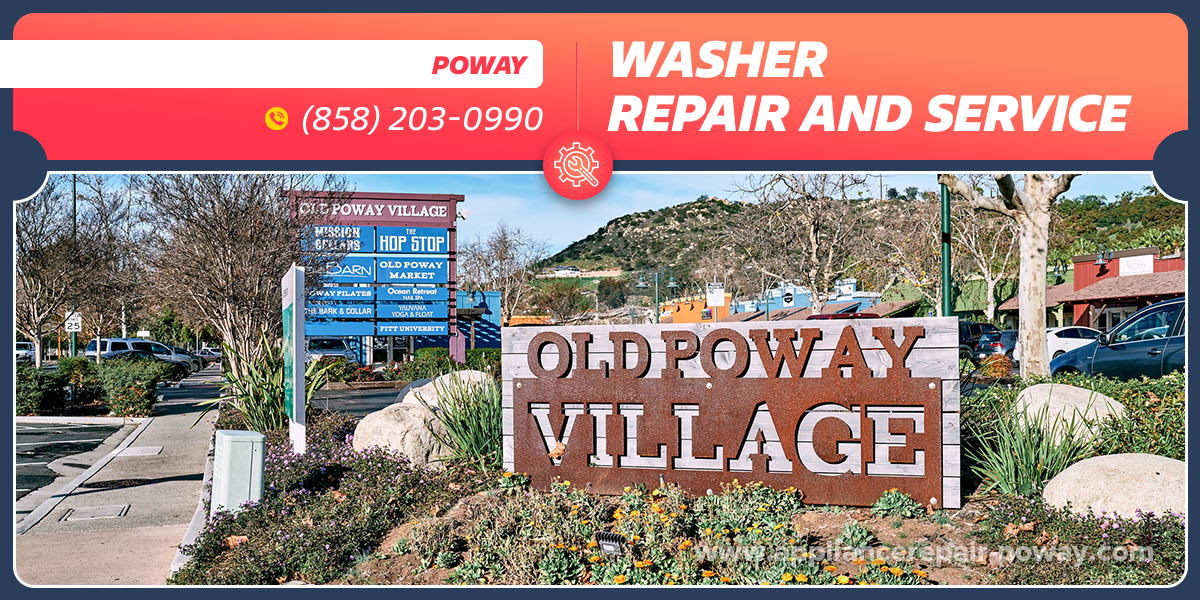 Washing Machine Repair in Poway
Has your washer stopped working properly? Are you planning to buy a new model? Don't be in a hurry. First, let an experienced technician take a look at your equipment. Contact the Poway Appliance Service Center for assistance. The advantage of our technicians is that they are able to eliminate all malfunctions without exception. The experts will definitely help you. Order Washing Machine Repair in Poway, CA. Certified professionals who work officially will help you.
You can order Poway Washing Machine Repair really in any situation. There are no problems that our experts cannot solve. Only in rare cases do we recommend the customer not to order a repair. This happens if the breakdown caused very serious damage to the equipment. 
In such a situation, the cost of repairs often exceeds the cost of buying a new washer. If you want, you can ask our specialist to choose a new model on the market. The technician will find the equipment that best suits your needs. In addition, a specialist can carry out a replacement.
If you order Washing Machine Repair in Poway, CA, we will send an expert to you. The technician will diagnose and tell you the cause of the breakdown. In addition, the specialist will tell you the cost of repairs. If you decide to postpone the repair until later, you will only need to pay a service fee. This money will be kept with us for a month as a deposit. What does it mean? If you decide to order a repair within a month, this amount will be used as a part of the service fee.
Poway Washing Machine Repair is carried out by all-rounders who are well versed in a variety of models of such equipment. We repair commercial and residential models. The washing machine can have any technical specifications. In addition, specialists effectively restore equipment of any year of manufacture. Any owner of such an appliance can rely on us. Repair in any case will be carried out qualitatively.
We are proud of our impeccable reputation. Customers who order Washing Machine Repair in Poway, CA always praise our professionalism. You can read their reviews online. Visit Google and Yelp.
We provide our customers with a quality guarantee
Of course, we are fully responsible for the quality of the repair. Customers who use Poway Washing Machine Repair and Service enjoy a 90-day warranty. After the completion of the work, we will stay in touch with you for 3 months. If you notice even the slightest problem, all you need to do is give us a call. A specialist will come to you and conduct a diagnosis. If he decides that this is a warranty case, you will not have to pay for a second repair.
We also provide customers with a 12-month warranty on new parts. If a part fails within a year, we will replace the part. However, such situations are rather the exception. Our technicians carry out Washing Machine Repairs in Poway, CA using only original parts. We use this approach really in 100% of cases. This is another factor that positively affects the operation of washing machines after our repair.
Would you like to receive more detailed information about our Washing Machine Repair Service in Poway Near You? Just give us a call, and our friendly manager will be more than happy to conduct a consultation for you. We understand the importance of clear communication and addressing any questions or concerns you may have. 
Our dedicated team is available for consultations every day, ensuring that you have access to the information you need when you need it. Additionally, our company operates year-round, so you can rely on our services whenever you require assistance with your washing machine.
How to order a repair
You can order Poway Washing Machine Repair and Service by calling the phone number listed on the site. You have the opportunity to apply any day. All you have to do is briefly describe the breakdown and the model of your washing machine. The second way to order a repair from Poway Appliance Service Center is to fill out the feedback form on the website. Just leave your phone number here and wait 1-3 minutes. Our specialist will contact you.
Our specialist carries out repairs, works carefully in the process, so as not to leave behind any traces of equipment repairs, and not to spoil the appearance. After the repair is completed, our company will back it up with a 90-day labor warranty. If you encounter the same problem during the warranty period, rest assured we will return to get an appliance back up to perfectly working condition.
$30 OFF ON FIRST TIME SERVICING
Frequently asked questions
What if I have a complex repair of equipment?
Our specialist will come to your home, conduct diagnostics and offer solutions to the problem. And only after your consent, the repair will begin.
Do you have customer support?
Our managers will always listen carefully to you and give you initial recommendations on the malfunction of your equipment to determine the cost of repair. Call:
(858) 203-0990
Is the expert's visit free of charge?
If you order a call to the master through our website, you are guaranteed to get a free diagnosis of your device, and detection of breakage.