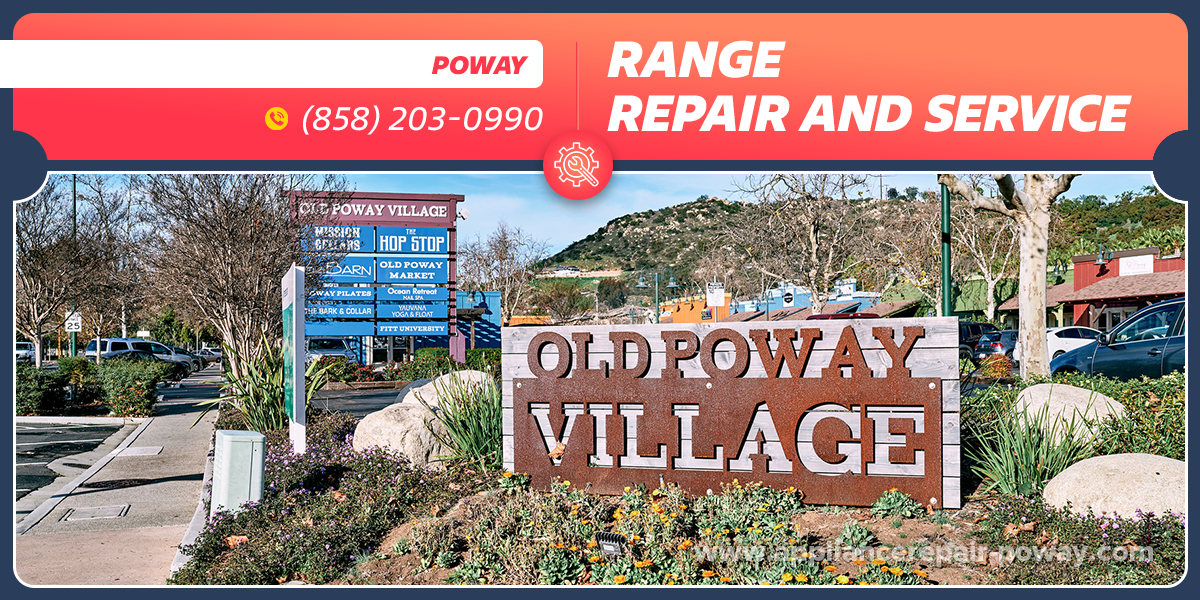 The Poway Appliance Service Center specialists work extremely professionally with kitchen equipment. This is not surprising, because we have been doing repairs since 2001. Experts with over 20 years of experience are able to effectively eliminate all breakdowns without exception. If you want to get real professional help, don't hesitate to order Range Repair in Poway, CA. You can be sure of the high level of our technicians. We employ only certified specialists who have passed all the necessary training.
To order Poway Range Repair, you only need to spend a few minutes. You can call the phone number listed on the site. Talk to our manager and describe the breakdown. In some cases, we can help the client by phone. 
This happens if the problem is not due to equipment malfunction. For example, sometimes it is enough to check the gas connection. You will receive a free remote consultation from our expert.
If the specialist concludes that you cannot do without professional help, he will send a technician to you. Customers who order Range Repair in Poway, CA usually receive same day assistance. 
More precisely, this happens in 95% of cases. A specialist will come to you, carry out diagnostics and tell you the cost of repairs. If you refuse the repair, you will need to pay a service fee. You will have the opportunity to change your mind within a month. If you do so, the service fee will become part of the repair fee.
You can order Poway Range Repair for any breakdown. Our technicians have proven that they can solve any customer problem. In addition, you can order repairs, regardless of which model you own. It can be a simple residential model or sophisticated business equipment. This may be the latest range or an appliance that has been out of production for a long time. We guarantee you that the repair will be successful in any case.
Do you want to make sure that we work professionally? Read reviews from customers who have already ordered Range Repair in Poway, CA. Go to Google and Yelp. You can also get more information by calling us. You will receive useful personal consultation.
Each client of our company receives a quality guarantee
You can be sure that your range will work without problems in the future. Practice shows that in the vast majority of cases this is exactly what happens. If, nevertheless, some unpleasant situation arises, you can use the warranty. Every customer who orders Poway Range Repair and Service receives a 90-day warranty. Within three months we will be ready to provide you with any support. If there is a warranty case, the repair will be carried out free of charge.
We have a separate quality guarantee for new parts. We're talking about a 12-month warranty. We carry out Range Repair in Poway, CA using only original parts. This happens in all cases. Thanks to this, we are confident in their highest quality. These are products from the best manufacturers! If the part still fails within a year, the replacement of this thing will be carried out free of charge.
When it comes to Range Repair in Poway Near You, we have more good news to share. Our team is known for working with exceptional speed and efficiency. According to statistics, a remarkable 9 out of 10 repairs are completed on the very same day. 
We understand that your time is valuable, and we strive to minimize any inconvenience caused by a malfunctioning range. When you choose our company, you can rest assured that we prioritize timely solutions, ensuring that you don't have to waste any unnecessary time. Our commitment to fast and reliable service sets us apart, making us the ideal choice for those who value efficiency and promptness.
About the procedure for ordering repairs
To order Poway Range Repair and Service, just talk on the phone with our manager. This conversation won't last long. The manager will understand the essence of the situation and, if necessary, will send a technician to you. You can also order repairs by filling out the contact form on the website. You need to leave your phone number here. The Poway Appliance Service Center specialist will call you within 1-3 minutes.
Our specialist carries out repairs, works carefully in the process, so as not to leave behind any traces of equipment repairs, and not to spoil the appearance. After the repair is completed, our company will back it up with a 90-day labor warranty. If you encounter the same problem during the warranty period, rest assured we will return to get an appliance back up to perfectly working condition.
$30 OFF ON FIRST TIME SERVICING
Frequently asked questions
What if I have a complex repair of equipment?
Our specialist will come to your home, conduct diagnostics and offer solutions to the problem. And only after your consent, the repair will begin.
Do you have customer support?
Our managers will always listen carefully to you and give you initial recommendations on the malfunction of your equipment to determine the cost of repair. Call:
(858) 203-0990
Is the expert's visit free of charge?
If you order a call to the master through our website, you are guaranteed to get a free diagnosis of your device, and detection of breakage.