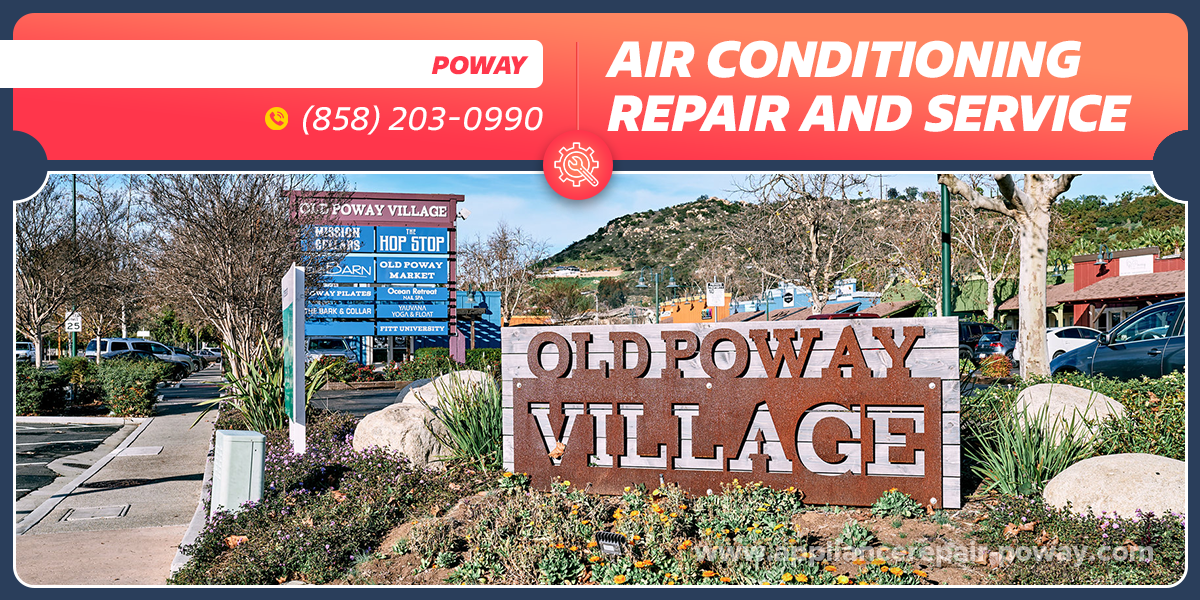 Air Conditioning Repair in Poway
If your air conditioner breaks down, be sure to use the services of professionals. Attempting to repair it yourself can lead to negative consequences. Subsequently, you may have to order more expensive repairs. Contact the Poway Appliance Service Center if you have a problem. Order Air Conditioning Repair in Poway, CA. We guarantee that your equipment will be up and running again very soon. 
We don't doubt the professionalism of our experienced experts. Each of them has over 20 years of experience. Our company was established in 2001. In addition, all specialists have a certificate and insurance.
We suggest you order Poway Air Conditioning Repair any day. Our competitive advantage is that our company operates all year round. We are ready to provide you with professional, efficient assistance almost at any time. First, our manager will conduct a personal consultation for you. The specialist will tell you more about the service and ask you to briefly describe the breakdown. If necessary, the manager will send one specialist or several technicians to you.
An important point: some customers who want to order Air Conditioning Repair in Poway, CA receive help over the phone. This happens, for example, if it is enough to change the settings of the air conditioner. In this case, our specialist will provide you with instructions remotely. The advantage of such consultations is that they are completely free.
After you order Poway Air Conditioning Repair, a technician will come to you. He will carefully inspect your equipment and carry out diagnostics. The specialist will find the cause of the breakdown and tell you in simple terms what happened. In addition, the expert will tell you the cost of the repair. 
You will have the option to opt out of the repair. In this case, you will only need to pay a service fee. Within a month, you will be able to change your mind. In this case, this money will become a part of the payment for the repairs.
You can learn more about Air Conditioning Repair in Poway, CA by reading our customer reviews. We recommend visiting Google and Yelp. You will find here a large number of comments from people we have helped.
Repair is guaranteed to be successful
Our company guarantees you this not only in words. Of course, if you order Poway Air Conditioning Repair and Service, you will receive an official warranty. We're talking about a 90-day warranty on repairs. You can ask us for help if the breakdown occurs again within 3 months. You can also contact us and get a consultation regarding the operation of your air conditioner.
Customers who order Air Conditioning Repair in Poway, CA receive a 12-month new parts warranty. Why are we confident in the high quality of the parts we use? Because we only buy original products. We never try to save money by choosing cheap fakes.
By the way, we buy these spare parts in advance. They are stored in our large modern warehouse. This is important in terms of the timing of the repair. If it becomes necessary to replace a part, we will not buy this item and wait several days for delivery. 
Even in this case, we will be able to start the repair on the same day. We always try to save time for our customers, so 90% of repairs are completed on the same day.
How to use the services of our company
To get assistance from the experienced Poway Appliance Service Center experts, give us a call. Leave your request and wait a bit. In 95% of cases, our technician arrives at the customer's place on the same day. You can also order Poway Air Conditioning Repair and Service by leaving your phone number in the feedback form. If you prefer this option, our manager will contact you. The specialist will do this within 1-3 minutes after the application is made.
Our specialist carries out repairs, works carefully in the process, so as not to leave behind any traces of equipment repairs, and not to spoil the appearance. After the repair is completed, our company will back it up with a 90-day labor warranty. If you encounter the same problem during the warranty period, rest assured we will return to get an appliance back up to perfectly working condition.
$30 OFF ON FIRST TIME SERVICING
Frequently asked questions
What if I have a complex repair of equipment?
Our specialist will come to your home, conduct diagnostics and offer solutions to the problem. And only after your consent, the repair will begin.
Do you have customer support?
Our managers will always listen carefully to you and give you initial recommendations on the malfunction of your equipment to determine the cost of repair. Call:
(858) 203-0990
Is the expert's visit free of charge?
If you order a call to the master through our website, you are guaranteed to get a free diagnosis of your device, and detection of breakage.