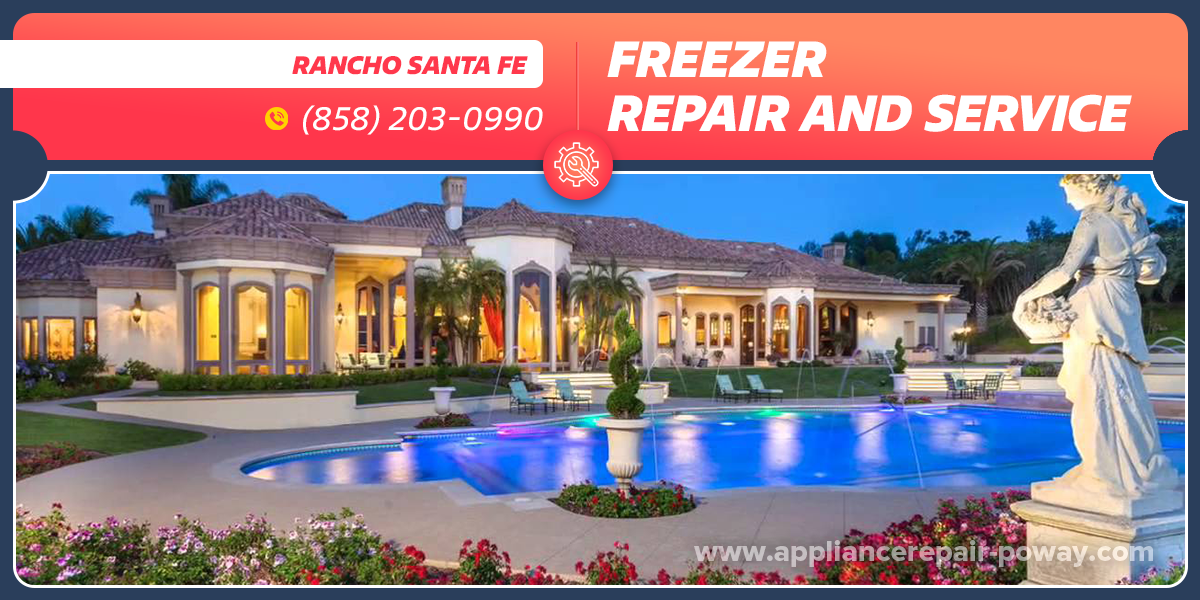 Freezer Repair in Rancho Santa Fe
We guarantee you that Poway Appliance Service Center specialists can restore your freezer after any breakdown. We have experienced professionals who started doing repairs in 2001. Freezer Repair in Rancho Santa Fe, CA is carried out only by certified experts who have undergone in-depth training. Each specialist of our company is insured.
For more than 20 years, technicians have learned how to repair any type of freezer. Firstly, you can order Rancho Santa Fe Freezer Repair if you have a classic model for home use. Secondly, we can help you if you have a commercial freezer. Equipment can be produced in any year. We work with freezers that have any technical specifications. Repair will be guaranteed qualitatively in any case.
You can order Freezer Repair in Rancho Santa Fe, CA by phone. Our manager will conduct an initial consultation for you and ask you to answer a few simple questions. In some cases, the specialists of our company come to the conclusion that there is no need for a technician's visit. In this case, the client receives assistance by phone. We provide the client with useful recommendations with which he can fix the problem yourself. These consultations are free for all clients.
Customers who order Rancho Santa Fe Freezer Repair receive an official warranty. We provide a 90-day warranty on our repairs. In addition, our customers receive a 12-month warranty on new parts. After the repair is completed, you will receive the corresponding document. It is important that our company uses only original spare parts. These are high quality products from reputable manufacturers.
You can order Freezer Repair in Rancho Santa Fe, CA any day. Our company operates all year round. Thanks to this, you will receive fast professional help. In 95% of cases, our technician arrives at the customer's place on the same day. If you need urgent repairs, our company is definitely worth your attention.
Some more advantages of our company
Our experts do their job very quickly. Order Rancho Santa Fe Freezer Repair and Service if you love saving your time. Most likely, the repair will be completed on the day it starts. More precisely, this happens in 90% of cases. To shorten the repair time, contact us for assistance as soon as possible. Specialists can fix the problem much faster if it is in the early stages.
If you have a complex or very large freezer, we will send 2-3 specialists to you. Thanks to this, the repair will be carried out quickly and efficiently.
There is another important point that has a positive effect on the timing of the repair. Our company has a large modern warehouse. Thanks to this, we can buy a lot of spare parts for freezers in advance. Therefore, if it becomes necessary to carry out a replacement, this will not greatly affect the timing of such work.
Our specialists pay special attention to the repair of the newest freezers. In order to carry out Freezer Repair in Rancho Santa Fe, CA effectively in such cases, technicians attend refresher courses every 6 months. These are trainings that are held at manufacturers' factories. Here, specialists study new technologies and work on the most modern equipment.
How to use the services of our company
As mentioned above, you can order Rancho Santa Fe Freezer Repair and Service by phone. Call the phone number listed on the site and leave your request. In addition, you can find a feedback form on the Poway Appliance Service Center website. If you would like our manager to contact you, leave your contact details here.
Our specialist carries out repairs, works carefully in the process, so as not to leave behind any traces of equipment repairs, and not to spoil the appearance. After the repair is completed, our company will back it up with a 90-day labor warranty. If you encounter the same problem during the warranty period, rest assured we will return to get an appliance back up to perfectly working condition.
$30 OFF ON FIRST TIME SERVICING
Frequently asked questions
What if I have a complex repair of equipment?
Our specialist will come to your home, conduct diagnostics and offer solutions to the problem. And only after your consent, the repair will begin.
Do you have customer support?
Our managers will always listen carefully to you and give you initial recommendations on the malfunction of your equipment to determine the cost of repair. Call:
(858) 203-0990
Is the expert's visit free of charge?
If you order a call to the master through our website, you are guaranteed to get a free diagnosis of your device, and detection of breakage.