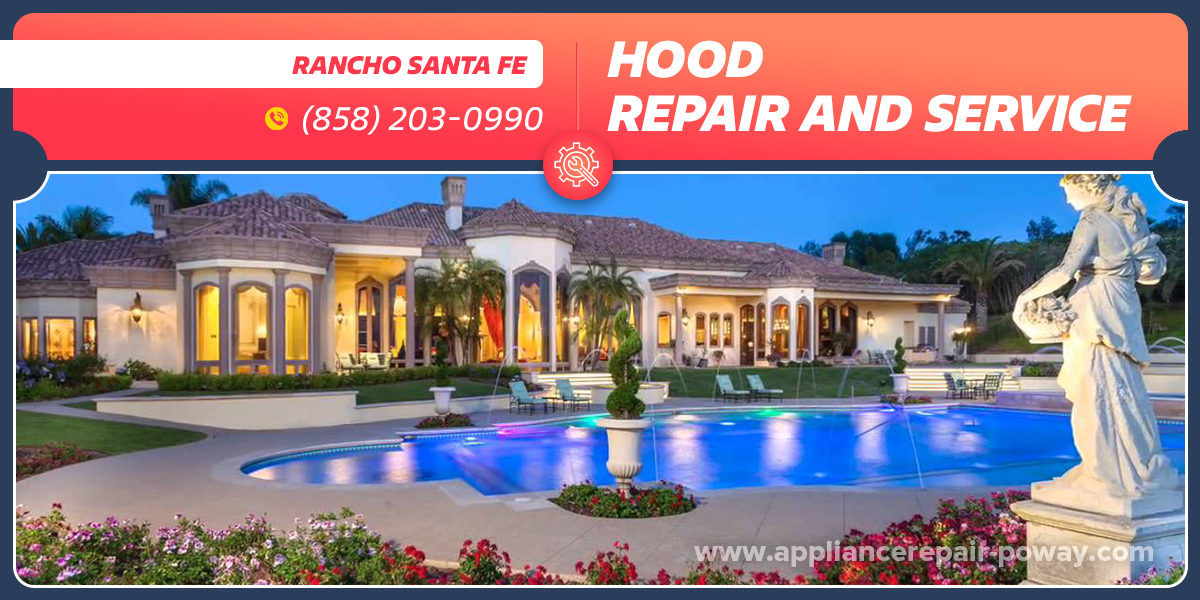 Hood Repair in Rancho Santa Fe
Every problem that the owner of the hood may face has its own solution. To quickly get rid of trouble, seek help from experienced professionals. We recommend contacting the Poway Appliance Service Center. Why should you order Hood Repair in Rancho Santa Fe, CA from us? Everything is simple. 
We take pride in having the most experienced professionals in our region, including those specializing in Hood Repair in Rancho Santa Fe Near You. Each of our technicians has extensive experience in repairing such equipment, with a track record dating back to 2001. 
Furthermore, our specialists possess the necessary certificates and insurance, ensuring that they meet all the required qualifications and standards. In other words, our technicians have all the necessary documents and credentials that a specialist of this type should have, providing you with peace of mind and confidence in their expertise.
Our experts repair hoods of all types. For technicians, it doesn't matter what specifications your model has. Firstly, you can order Rancho Santa Fe Hood Repair if you have a residential model. Specialists work with equipment from all popular manufacturers. Secondly, our technicians can repair your commercial hood. Repair is carried out with the same quality in both cases.
Our technicians skillfully use all effective methods of repair. Because of this, there is no such breakdown that they could not fix. You can order Hood Repair in Rancho Santa Fe, CA even if you have a difficult situation. Exceptions are cases where the cost of repairs is very high. 
In such situations, we recommend customers to buy a new hood. If you don't understand the range of manufacturers, you can ask the technician to choose a new model for you. In addition, you can order the uninstallation of old equipment and the installation of new one.
Many customers who order Rancho Santa Fe Hood Repair receive a discount. People who order repairs online get a $25 discount. Our regular customers receive a 15% discount. For this, it is enough that you have used our services at least once in the past. Seniors and veterans receive a $30 discount.
To learn more about our Hood Repair in Rancho Santa Fe, CA service, give us a call. In addition, it will be useful for you to read our customer reviews on Google and Yelp. Many of these clients describe the benefits of working with our company.
About other benefits that we will please you with
Our company operates 7 days a week, 365 days a year. This is important from two points of view. Firstly, you have the opportunity to order Rancho Santa Fe Hood Repair and Service at almost any convenient time. Secondly, we can provide you with professional assistance very quickly. In 95% of cases, a technician arrives at the client's address on the same day. You definitely won't have to wait long!
Technicians carry out the repair itself extremely quickly. The job is almost always completed on the same day. This is possible in 90% of cases. The less damage the malfunction causes to the equipment, the faster the repair will take place. Therefore, seek help as soon as you notice a problem.
Customers who order Hood Repair in Rancho Santa Fe, CA receive an official warranty. Our specialist will provide you with the relevant document. This is a 90-day repair warranty. In addition, we provide customers with a 12-month warranty on new parts. If there is a problem in the future, you just need to contact us. Warranty repairs are free of charge. It is worth noting that in our work we use only original spare parts, which always work without problems.
How to use the services of our company
You have the opportunity to order Rancho Santa Fe Hood Repair and Service by phone. Call the phone number listed on the site. Tell our manager about your problem. The technician will tell you if the situation requires a visit from a technician. In addition, you can fill out the feedback form on the Poway Appliance Service Center website. The manager will call your phone number within 1-3 minutes.
Our specialist carries out repairs, works carefully in the process, so as not to leave behind any traces of equipment repairs, and not to spoil the appearance. After the repair is completed, our company will back it up with a 90-day labor warranty. If you encounter the same problem during the warranty period, rest assured we will return to get an appliance back up to perfectly working condition.
$30 OFF ON FIRST TIME SERVICING
Frequently asked questions
What if I have a complex repair of equipment?
Our specialist will come to your home, conduct diagnostics and offer solutions to the problem. And only after your consent, the repair will begin.
Do you have customer support?
Our managers will always listen carefully to you and give you initial recommendations on the malfunction of your equipment to determine the cost of repair. Call:
(858) 203-0990
Is the expert's visit free of charge?
If you order a call to the master through our website, you are guaranteed to get a free diagnosis of your device, and detection of breakage.