Not all of us are lucky enough to have knowledge of how a dryer works. So let's start our search from the beginning. Let's start with problems that you can solve on your own without the help of a repairman. Are you drying and you notice that you're pulling wrinkled laundry out of the dryer? It's obviously not all good.
Until now you got used to take out only nicely unfolded clothes, which you can shake slightly and immediately put in the closet? But today you've finished drying, and your clothes are so wrinkled that you'll be ironing them for a week?
There are several solutions to this problem, and you won't even need a screwdriver. First, you may have gotten the clothes out of the dryer wrong. Yes, that's possible, too. The longer you leave your clothes in the dryer, the more they wrinkle. To avoid having to iron your clothes, it's best to take them out of the dryer while they're still warm. Just give it a little shake, and you can put it right back in the closet. Another cause of wrinkled clothes could be that you are not using fabric softener in the form of fabric softener or wool dryer balls, which are also eco-friendly and reusable. But it's important not to overdo it and use only the amount recommended by the manufacturer, or your appliance could clog.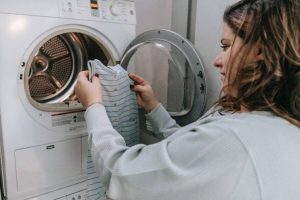 Clothes will crumple in the dryer even if you overfill it or even if you don't put enough. The dryer needs to be filled judiciously to ensure proper drying. Incorrect temperatures or the wrong drying program also play a significant role.
We recommend sort not only by color, but also by type of material. It is ideal to dry delicate clothes with small items, sweaters with other sweaters, etc. Remember that you should always choose the right drying program. It's worse if your clothes get damaged in the dryer. You won't get your favorite t-shirt back, but you need to figure out why it happened. There may be a foreign object in the drum. So check the drum for loose parts or clothing items with sharp edges. Also remember that not all clothes can be dried in the dryer. Always follow the instructions on the inside labels of your clothes.
If you have an issue with your dryer or need just some maintenance for it, don't delay. Call Poway Appliance Repair Service now to get your dryer work like new again. If you need an urgent home appliance repair service, let us know. It might cost slightly higher, but the service is worth that. Our specialist will arrive to your address within 15 minutes, and you can get your dryer work again asap, usually, within a couple of hours. That's why, so many people in Poway rely on our home appliance repair services.
We are confident in the quality of work performed by our appliance technicians. That's why. We don't hesitate to issue a guarantee for most of jobs performed. It keeps our clients confident, that they get the best possible service.
We have appliance repair experts available today! Call a professional Poway Appliance Service Center technician by phone or through an online request.
Our service center is open 24/7, so you can easily schedule a convenient repair time. The specialist will arrive at the agreed time, carry out a diagnosis, and, if necessary, offer repairs. If you are willing, your appliance will be repaired directly on-site within 1-2 hours. We provide top-notch service at an affordable price!
Contact us
(858) 203-0990
[email protected]