Manufacturers of current refrigerators estimate 8-10 years of their service life. Although many service professionals would disagree, any refrigerator can be repaired due to the wide variety of replacement parts available.
In this article we will describe the most common malfunctions of refrigerators, their causes and prompt when it is necessary to entrust their repair to a specialist of the service center.
Crackling And Popping Noises Coming From the Refrigerator
These sounds are usually caused by the thermal expansion of the material. This is because most materials shrink in size as they cool – most noticeably in metals. Therefore, sounds such as a crackling or popping sound in a refrigerator can be caused by thermal expansion, refrigerant circulation, or different components turning on and off. This is a normal operating condition, not a malfunction.
Your Refrigerator Is Freezing Everything
This is caused by condensation forming in the inside of the refrigerator. If your refrigerator is equipped with No Frost technology, the moisture should drain to the bottom and exit through a small hole in the back where the water collection container is located. This is where the excess water evaporates.
If your refrigerator keeps freezing, it could be because you open it too often, the door seal is broken and leaking, or you put hot food in it. Store foods with a high moisture content (fruits, vegetables, meat, fish, dairy products) in a humidity-controlled drawer – manufacturers call it BioFresh or HydroSafe, for example.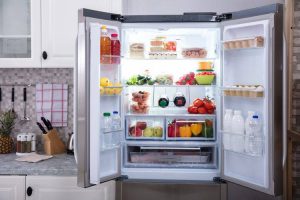 Water Is Leaking Underneath The Refrigerator
Most often accumulates due to condensed moisture. More water can occur if the condensate drain hole in a fridge with the No frost function becomes blocked.
The Lighting Doesn't Turn On.
Up to recently, refrigerators were lighted by a single, ordinary, low-power, atypically shaped bulb. Once it burned out, it could simply be replaced with a new one.
The new refrigerators are lit by LEDs, which are more economical and have a much longer service life. However, they are part of a single lighting module that is specific to each refrigerator model. Therefore, you must order it as a replacement part directly from the manufacturer.
Ice Maker Problems
Many high end refrigerators (usually two-door models) are equipped with an ice maker. If your ice maker stops producing ice, check the water inlet or, in the case of a model with a built-in tray, check that there is water in the tray. If it gives out ice cubes but the ice crumb output does not work, it may be a malfunction, jamming or breakage of the Ice Maker. Be careful, always unplug the ice maker before operating it to ensure safety.
If there is a musty or unpleasant odor coming from the ice and water dispenser, clean the water dispenser thoroughly (this should be done regularly).
Therefore, whenever you notice a malfunction in your refrigerator you should immediately contact our Poway Appliance Repair Service in San Diego County for appliance repair help. You may find on the Internet some websites that claim that these issues can be fixed by yourself. We disagree, and actually discourage any DIY refrigerator repair for a number of reasons. First and foremost, your safety; attempting to repair a refrigerator without the proper technical training is hazardous. You can get an electric shock (which can have serious consequences!), cause a short circuit that may ignite a fire at home, or worse. Additionally, you can further damage your refrigerator. Professional help is necessary for all appliance repairs, and this is why we encourage getting in touch with our appliance repair company.
We have appliance repair experts available today! Call a professional Poway Appliance Service Center technician by phone or through an online request.
Our service center is open 24/7, so you can easily schedule a convenient repair time. The specialist will arrive at the agreed time, carry out a diagnosis, and, if necessary, offer repairs. If you are willing, your appliance will be repaired directly on-site within 1-2 hours. We provide top-notch service at an affordable price!
Contact us
(858) 203-0990
[email protected]