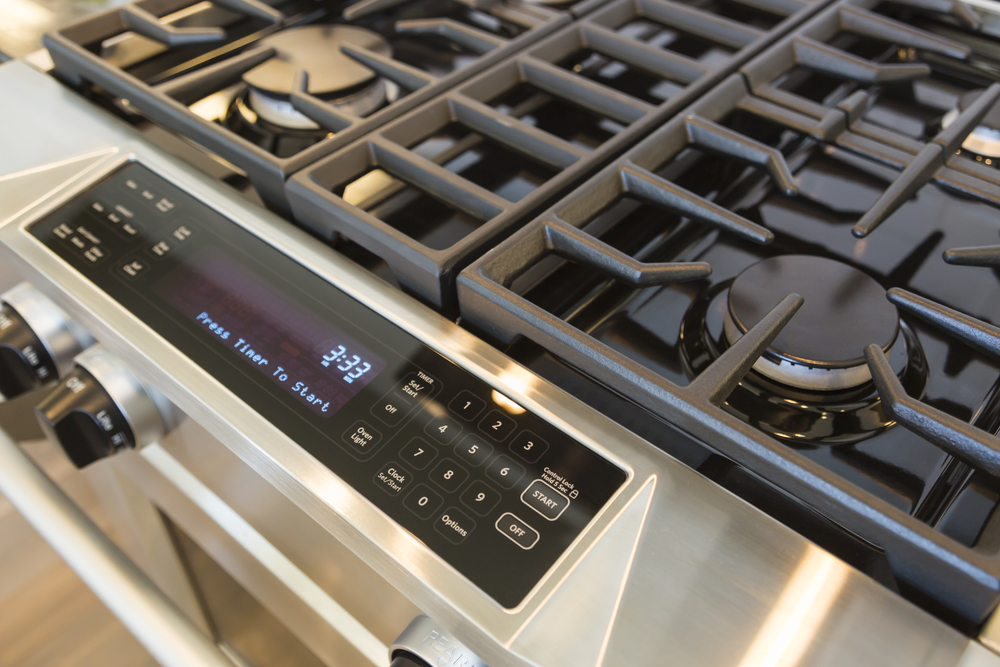 A gas range is a home appliance that is used every day, several times a day. That's why, when it breaks down, a lot of discomfort and frustration is guaranteed. Many people believe that some days at least will be needed to repair it. That's why they delay this procedure till a gas range stops working. But Poway Appliance Repair Service Center will provide fast services at affordable prices in Mira Mesa, Scripps Ranch, Rancho Bernardo, Rancho Santa Fe, 4S Ranch, Ramona, Rancho Penasquitos, and Poway range repair service.
Such delays are dangerous. Gas might leak and it can cause a powerful explosion. Any malfunction in a gas range can lead to a fire. That's why, if your gas range has a malfunction, call a local appliance repair service.
If a burner gets clogged, it needs cleaning. It is not an extraordinary failure, but it requires some action. If your burners don't turn on or don't turn off, or they do it but with difficulty, if the gas range valve needs a replacement, and if the gas range does not cook evenly – all these issues signal that maintenance or repair work is needed.
You need to find the most efficient and the fastest home appliance service provider in the area. Request the service from Poway Appliance Repair Service Center, the best company that provides home appliance repair services in San Diego County. Don't worry about the costs of repair, our prices are definitely not higher than those that other local appliance repair services providers charge.
Place your order online or give us a call, and the appliance repairmen will come to fix appliances asap. You don't need to bring your gas range to any service centers. Our appliance technician will fix it at your place. 95% of all issues are handled on the same day at the address that was indicated in the order. We have the most frequently used parts in stock, that's why we provide all home appliance repair services fast. You don't need to wait for any parts to arrive.
Our specialists provide all brand appliance repair. They are trained to be at the edge of technological development and handle even the most complicated issues. That's why, even if nobody else can fix your appliances that you need so badly, try once more, with our appliance doctor. It might be that your gas range will work again.
If you have an urgent request, you can count on us, as well. But don't forget to mention in your order, that the case is urgent, otherwise, we don't have a way to find this out. Our appliance technician will arrive at the indicated address within 15 minutes and will provide you with the best in-home appliance repair service. A guarantee on most of our works is provided, so, you don't need to worry about the service quality.
We have been present in the market for more than two decades. Our clients know that they can count on us whatever happens with their favorite home appliances. Our specialists are available 24/7, you can place an order any time. It will be processed immediately, and our technician will be in place as soon as possible. Entrust your home appliances to appliance repair professionals, call Poway Appliance Repair Service Center!
Our specialist carries out repairs, works carefully in the process, so as not to leave behind any traces of equipment repairs, and not to spoil the appearance. After the repair is completed, our company will back it up with a 90-day labor warranty. If you encounter the same problem during the warranty period, rest assured we will return to get an appliance back up to perfectly working condition.
$30 OFF ON FIRST TIME SERVICING
Frequently asked questions
What if I have a complex repair of equipment?
Our specialist will come to your home, conduct diagnostics and offer solutions to the problem. And only after your consent, the repair will begin.
Do you have customer support?
Our managers will always listen carefully to you and give you initial recommendations on the malfunction of your equipment to determine the cost of repair. Call:
(858) 203-0990
Is the expert's visit free of charge?
If you order a call to the master through our website, you are guaranteed to get a free diagnosis of your device, and detection of breakage.