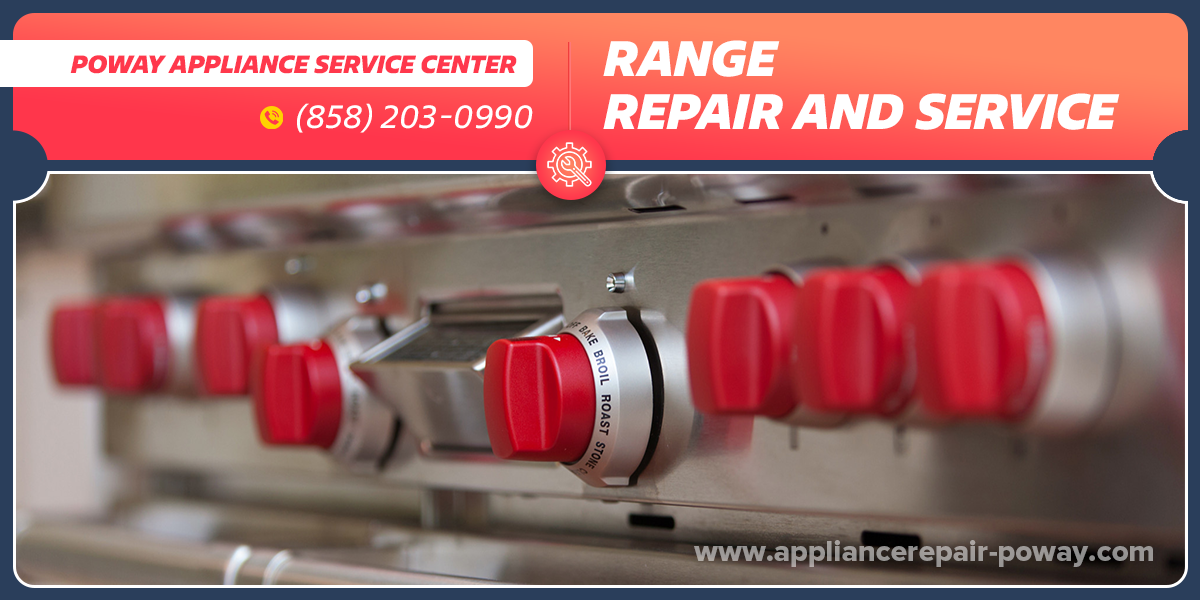 Ranges are the main assistants in any kitchen. Through innovative technologies and the latest developments, modern models of ranges have many different functions. They can satisfy both housewives and professional chefs. Most models are equipped with electric ignition, a gas control system, a timer, an oven, and a grill. There are also models with additional functions. We talk about fat-absorbing filters, self-cleaning, convection, catalytic coating, and other features. If your range is broken, just contact Poway Appliance Service Center for Range Repair in San Diego County.
The reality is that even the most modern and perfect household appliances fail from time to time. And gas ranges are no exception. Most often, breakdowns occur due to a violation of the operating rules or due to the lack of timely maintenance. In the process of cooking, pieces of food fall into the jet, thereby clogging the holes. And with abundant washing of the plate, water penetrates the electronic components of the equipment.
Malfunctions also occur because of pots and cauldrons with a small bottom diameter at the maximum allowable mode. Regardless of what caused the range malfunction, try to arrange repair as soon as possible after you detected the breakdown.
Range Diagnostics and Repairs
According to safety regulations, in the event of any malfunctions in the gas range operation, its further use is prohibited. In such a situation, the algorithm of actions is as follows. You should shut off the gas supply to the faulty appliance and call a qualified craftsman. Any independent attempts to carry out diagnostic measures, and to carry out Range Repairs, are fraught with danger.
An experienced master guarantees competent, safe, and prompt diagnostics directly at the customer's home. This approach allows you to significantly save time and money for dismantling faulty equipment and its delivery to the workshop. Entrust Range Repair to professionals!
Why Choose Us?
Our gas Range Repair service provides services to eliminate breakdowns of any complexity with a guarantee for the work performed. Range Repairs are one of the key activities of our service center. All of our technicians are licensed to work with gas equipment.
While repairing breakdowns, specialists use only original spare parts recommended by the manufacturer. The technician leaves for the client's home as soon as possible after the application is submitted (usually within a few hours).
Common Range Malfunctions
The main threat of Range breakdown is the risk of gas leakage. However, this is far from the only case when gas Range Repairs and Services are needed.
The most common symptoms that a gas range has failed are the following:
You feel a specific smell and hear extraneous noise.

The burner does not ignite.

The gas stops burning.

Uneven flame.

Ignition delay occurs.

Difficulties when turning on the burner.

The burner smokes.

Breakdown of the gas control system or electric ignition.

The range does not turn on.

The user cannot select the desired mode or set the desired temperature.
If you didn't find your problem in the list, call us for free advice about Range Repair and Service anytime you need.
We have been providing Range Repair and Service in San Diego County since 2001. Our clients know that they can count on us for whatever happens with their home appliances. We are available 24/7. You can place an order at any time. It will be processed immediately, and our technician will be in place ASAP. Entrust your home appliances to professionals, call Poway Appliance Service Center!
Our specialist carries out repairs, works carefully in the process, so as not to leave behind any traces of equipment repairs, and not to spoil the appearance. After the repair is completed, our company will back it up with a 90-day labor warranty. If you encounter the same problem during the warranty period, rest assured we will return to get an appliance back up to perfectly working condition.
$30 OFF ON FIRST TIME SERVICING
Frequently asked questions
What if I have a complex repair of equipment?
Our specialist will come to your home, conduct diagnostics and offer solutions to the problem. And only after your consent, the repair will begin.
Do you have customer support?
Our managers will always listen carefully to you and give you initial recommendations on the malfunction of your equipment to determine the cost of repair. Call:
(858) 203-0990
Is the expert's visit free of charge?
If you order a call to the master through our website, you are guaranteed to get a free diagnosis of your device, and detection of breakage.