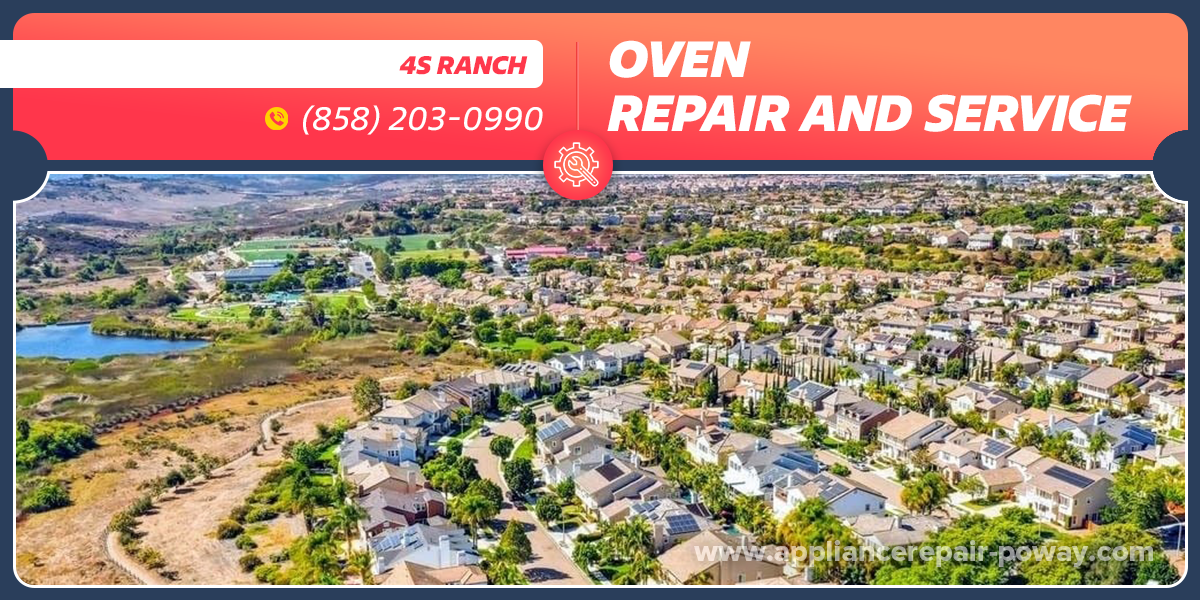 There are practically no such breakdowns of the oven that could not be eliminated. If you turn to professionals, your kitchen equipment will definitely be restored. To get assistance from these experts, we recommend contacting the Poway Appliance Service Center. Order Oven Repair in 4S Ranch, CA. 
You have the opportunity to do this any day, as our company specializing in Oven Repair in 4S Ranch Near You works seven days a week. Professionals with more than 20 years of experience will help you with any oven repair needs you may have. We started working in 2001 and have since been providing reliable and efficient oven repair services to our customers. Trust our experienced technicians to handle your oven repair needs with expertise and professionalism.
Don't worry about the fact that repairs can take a lot of time. Our specialists carry out 4S Ranch Oven Repair, quickly coping with even the most complex tasks. According to the statistics we have at our disposal, repairs are completed on the same day in 90% of cases. This applies even to those situations when, during the repair, it is necessary to replace the spare part. 
We buy in advance a large number of spare parts for such equipment. Plus, as we're available 365 days a year, you're sure to get quick help. In 95% of cases, a specialist arrives at the specified address on the same day.
Order Oven Repair in 4S Ranch, CA no matter what model you have. Our experts repair residential and commercial appliances to a high standard. We work with ovens produced in any year. Specialists qualitatively repair models with any technical characteristics. To effectively repair the latest appliances, technicians regularly attend refresher courses. More precisely, every 6 months they attend trainings that are held at the factories of manufacturers.
We carry out repairs of any complexity. You can order 4S Ranch Oven Repair in any situation. The bottom line is that for more than 20 years, specialists have encountered all possible malfunctions. Practice shows that experts can quickly and easily eliminate any of them.
You can see for yourself that real professionals work for us. Go to Google and Yelp. You will find many comments here from customers who have used Oven Repair in 4S Ranch, CA. If you would like to find more information about this service, give us a call. You will receive a detailed consultation.
Our clients receive repairs with a guarantee of quality
We guarantee you that your oven will work flawlessly after our repair. So that you have no doubts, our company will provide you with a 90-day warranty. It is received by all customers who order 4S Ranch Oven Repair and Service or any other service. Within three months you will be able to contact us if you encounter a problem. If this is a warranty case, the repair will be carried out free of charge.
In addition, our company provides customers with a 12-month warranty for new parts. If this thing fails, our technician will replace it free of charge. However, such situations occur very rarely. We use only original spare parts from time-tested manufacturers.
Before returning the equipment to the customer, our technicians carefully test its operation. We consider that our task is completed only if the specialist is sure that the oven will work without problems in the future. Hundreds of customers have already ordered Oven Repair in 4S Ranch, CA and found it to be true. If you contact us for help, we will definitely exceed your expectations!
How to use the services of our company
You can order 4S Ranch Oven Repair and Service by leaving a request by phone. Our specialist will talk to you and ask you a few questions. After agreeing on the details, the manager will send a technician to you. If you have a difficult situation, we will send several specialists to you at once. Also, to order a repair, you can fill out the feedback form on the Poway Appliance Service Center website. Leave your phone number here. The manager of our company will contact you within 1-3 minutes.
Our specialist carries out repairs, works carefully in the process, so as not to leave behind any traces of equipment repairs, and not to spoil the appearance. After the repair is completed, our company will back it up with a 90-day labor warranty. If you encounter the same problem during the warranty period, rest assured we will return to get an appliance back up to perfectly working condition.
$30 OFF ON FIRST TIME SERVICING
Frequently asked questions
What if I have a complex repair of equipment?
Our specialist will come to your home, conduct diagnostics and offer solutions to the problem. And only after your consent, the repair will begin.
Do you have customer support?
Our managers will always listen carefully to you and give you initial recommendations on the malfunction of your equipment to determine the cost of repair. Call:
(858) 203-0990
Is the expert's visit free of charge?
If you order a call to the master through our website, you are guaranteed to get a free diagnosis of your device, and detection of breakage.