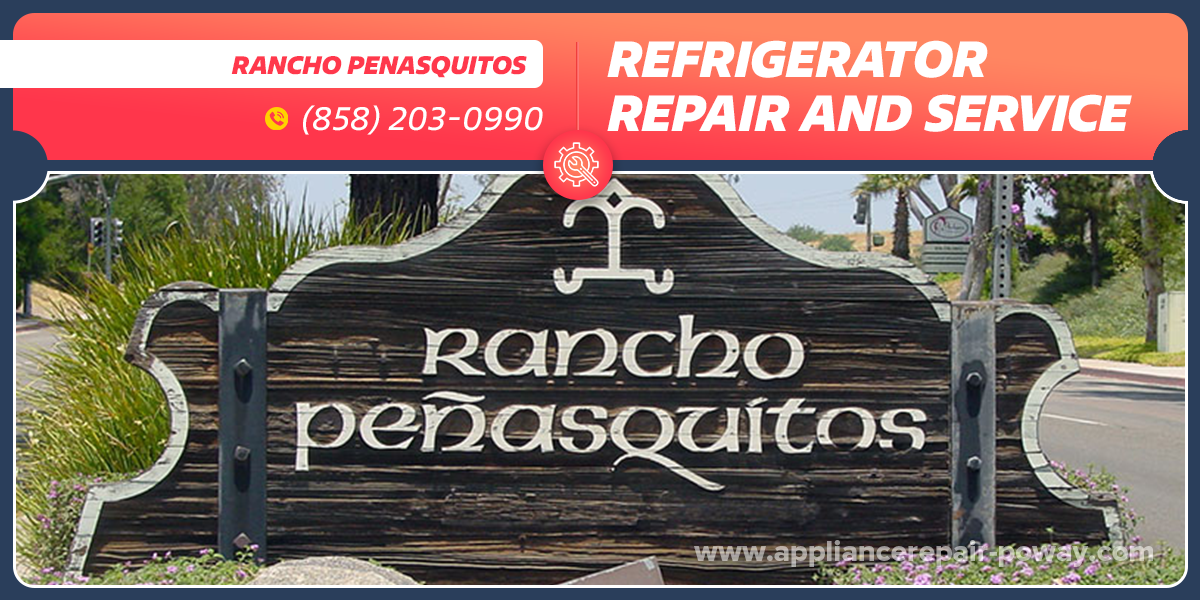 Refrigerator Repair in Rancho Penasquitos
Repairing modern refrigerators is a very difficult task. Moreover, this applies even to older models. The specialist who performs such work must have experience, skills and appropriate tools. To get assistance from these professionals, contact the Poway Appliance Service Center. You can order Refrigerator Repair in Rancho Penasquitos, CA on any convenient day. 
Our company operates all year round and provides Refrigerator Repair in Rancho Penasquitos Near You. Whether you have a commercial or residential model, our experienced technicians can handle any specifications. Rest assured that we will find the right approach to repair your refrigerator and ensure its optimal functionality.
We guarantee you that our specialists know their business. Rancho Penasquitos Refrigerator Repair is carried out by experts with over 20 years of experience. The specialists of our company began to work in 2001. All experts have certificates and other official documents. Each technician is insured. Specialists always pay a lot of attention to their professional development. 
Every 6 months, technicians attend refresher courses. These are trainings that are held at manufacturers' factories. Thanks to attending such events, our specialists are well versed in the latest technologies.
You can order Refrigerator Repair in Rancho Penasquitos, CA by phone. Just give us a call and tell us briefly about the problem you are facing. Our manager will assess the complexity of the situation. If the specialist concludes that the problem doesn't require a visit by a technician, you will receive help over the phone. Our manager will instruct you and tell you in simple terms what needs to be done. These consultations are free for all clients.
Customers who order Rancho Penasquitos Refrigerator Repair receive an official warranty (90 days). You can use it if the breakdown occurs again within 3 months. In this case, we will solve your problem for free.
In addition, people who order Refrigerator Repair in Rancho Penasquitos, CA receive a 12-month new parts warranty. The advantage of our company is that in 100% of cases we use original spare parts. Thanks to this, refrigerators work great after our repair.
About typical breakdowns of refrigerators
Customers who have previously ordered Rancho Penasquitos Refrigerator Repair and Service have come to us with all sorts of problems. Thanks to this, our technicians had the opportunity to work with all possible breakdowns. We recommend that you familiarize yourself with the list of the most popular ones.
The temperature in the refrigerator compartment is too high.

The temperature changes by itself from time to time.

The refrigerator vibrates heavily during operation.

The walls of the refrigerator are covered with a thick layer of ice.

The water is leaking from the equipment onto the floor.

The refrigerator runs continuously in cooling mode and doesn't pause.

The refrigerator door doesn't close properly, and cold air is blown out.

The equipment has received mechanical damage.
Whatever the breakdown is, we are guaranteed to quickly cope with our work. Therefore, if you need an urgent repair, ordering a Refrigerator Repair in Rancho Penasquitos, CA would be a great idea. Almost always (in 90% of cases) repairs are completed on the same day. To shorten the repair time, order the service as early as possible. Also, don't use faulty equipment.
How to use the services of our company
As mentioned above, you can order Rancho Penasquitos Refrigerator Repair and Service by calling us. The phone number of our company is listed on the website. We are ready to accept your application on any day convenient for you. In addition, you can use the feedback form. Find it on the Poway Appliance Service Center website. Leave your phone number here and wait a bit. Our specialist will contact you within 1-3 minutes.
Our specialist carries out repairs, works carefully in the process, so as not to leave behind any traces of equipment repairs, and not to spoil the appearance. After the repair is completed, our company will back it up with a 90-day labor warranty. If you encounter the same problem during the warranty period, rest assured we will return to get an appliance back up to perfectly working condition.
$30 OFF ON FIRST TIME SERVICING
Frequently asked questions
What if I have a complex repair of equipment?
Our specialist will come to your home, conduct diagnostics and offer solutions to the problem. And only after your consent, the repair will begin.
Do you have customer support?
Our managers will always listen carefully to you and give you initial recommendations on the malfunction of your equipment to determine the cost of repair. Call:
(858) 203-0990
Is the expert's visit free of charge?
If you order a call to the master through our website, you are guaranteed to get a free diagnosis of your device, and detection of breakage.