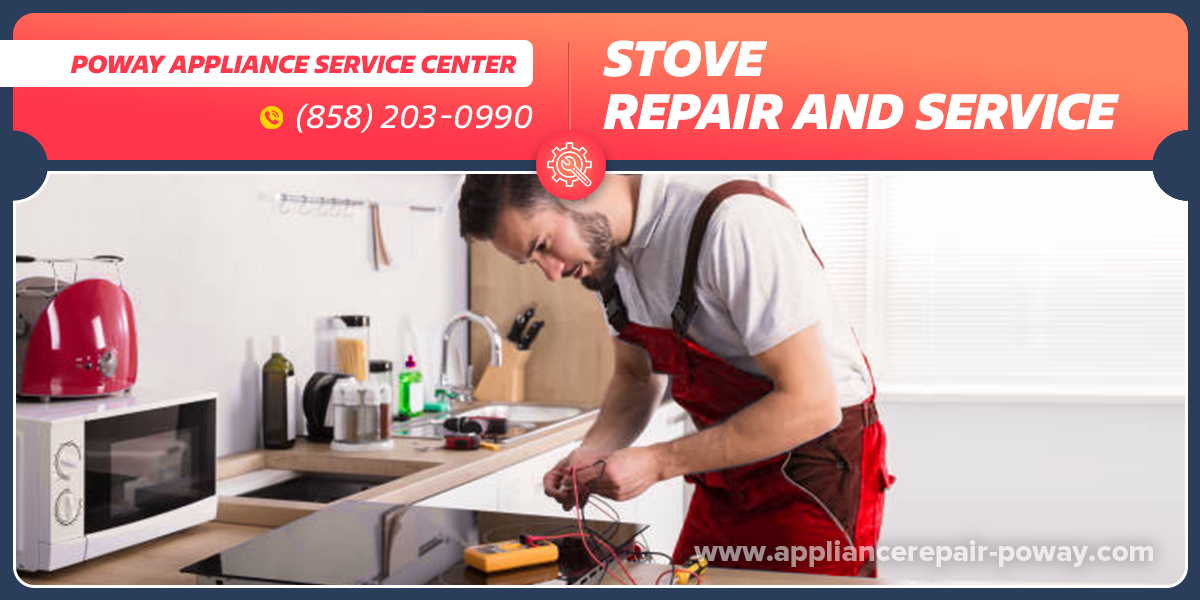 Modern kitchen stoves have a long service life. If the user follows the manufacturer's requirements for installation and operation, breakdowns rarely happen. But sometimes even the most expensive and reliable equipment can break down. If you need Stove Repair in San Diego County, please contact Poway Appliance Service Center. 
A Wide Range of Services from Professionals with 20 Years of Experience
Timely contact with specialists allows you to eliminate any malfunction and extend the life of the household appliance. If your gas stove is broken, the service center will repair it quickly, professionally, and at an affordable price.
We provide a wide range of Stove Repair and Service for all brands and makes. Our specialists take a responsible approach to clients and guarantee high-quality repair of gas stoves at home in San Diego County. We will help if the gas stove does not turn on or does not light up. Contact us right now if there is a gas smell in the apartment. You can call us in case of any breakdowns.
Electric stoves became so popular due to their high performance and reliability. But even a new device can fail sooner or later. The cause may be incorrect installation, improper maintenance, worn parts, etc. We have been providing Stove Repairs and Services in San Diego County for many years. Common reasons for contacting us:
The stove turns itself off.

The stove does not turn on.

The burner does not work.

Food takes a long time to cook or burn.
The weak point of the induction stove is the surface. If you drop a heavy object on it, cracks and chips will appear. Do not forget that the device works thanks to the many interconnected nodes, each of which can fail at any time.
If your induction stove does not work, does not heat up, or turns off, contact our service center. You can leave a request by phone or using the online form on the website. During the call, tell the manager the model and describe the problem. So that the technician takes the necessary tools and spare parts with him for Stove Repairs.
The Most Common Causes of Stove Failure
The causes of defects that require Stove Repair by qualified craftsmen are:
Electric burners may break down if the liquid has entered the heating surface.

Appliances may break when using unsuitable utensils, such as pots with an uneven bottom or a small bottom area.

Ceramic stoves and combined appliances get mechanical damage when heavy objects fall on them.

Mistakes when connecting panels to the mains can cause the failure of heating elements, wiring, and control modules.

Some defects can happen during power surges in the network and lack of a ground loop.
An experienced technician can quickly determine the cause and provide Stove Repairs. We provide a guarantee for all work and spare parts installed.
Main Problems
Stove diagnosis at the customer's home is performed using modern tools. Typical malfunctions of stoves are:
Inoperability of one or more burners in case of failure of the control unit, heating element, or power regulator.

Touch control does not work due to failure of the electronics unit or mode switching board.

The stove does not turn on because of a damaged plug, sensor board, electronics, or contact fusion cord.

A stationary or desktop stove does not turn off during operation. It is urgent to repair the burner relay or control module.

Mechanical damage to the surface.
In such situations, you need to call a professional technician. The cost of Stove Repair depends on the type of malfunction, the time spent, and the range of spare parts and components used. Calling a qualified specialist is the best option for high-quality and urgent repairs.
Why Hire a Professional Stove Repair?
In any situation when the stove turns off or does not turn on, it is best to call a service. High-quality stove repairs require appropriate experience, knowledge, and tools. Our specialists will carry out professional diagnostics to find out the exact problem and its cause. After agreeing on the price, they will perform stove repairs.
We provide stove repair on the day of the call. High-quality service, long-term guarantee, and affordable prices are the main advantages of contacting us. If you need to replace a switch, heating element, or electronics board, do not try to do the work yourself. Fill out an application on the website or call us. 
We know that emergencies happen often when you don't expect them. Poway Appliance Service Center works even at the weekends and during bank holidays, day and night. You can place your order whenever you have a need. You can be sure that we will process it immediately. Our best appliance technician will come to provide Stove Repair and Service ASAP. This is the way we work and that's why we have grateful clients all around Poway and the surrounding areas.
Our specialist carries out repairs, works carefully in the process, so as not to leave behind any traces of equipment repairs, and not to spoil the appearance. After the repair is completed, our company will back it up with a 90-day labor warranty. If you encounter the same problem during the warranty period, rest assured we will return to get an appliance back up to perfectly working condition.
$30 OFF ON FIRST TIME SERVICING
Frequently asked questions
What if I have a complex repair of equipment?
Our specialist will come to your home, conduct diagnostics and offer solutions to the problem. And only after your consent, the repair will begin.
Do you have customer support?
Our managers will always listen carefully to you and give you initial recommendations on the malfunction of your equipment to determine the cost of repair. Call:
(858) 203-0990
Is the expert's visit free of charge?
If you order a call to the master through our website, you are guaranteed to get a free diagnosis of your device, and detection of breakage.